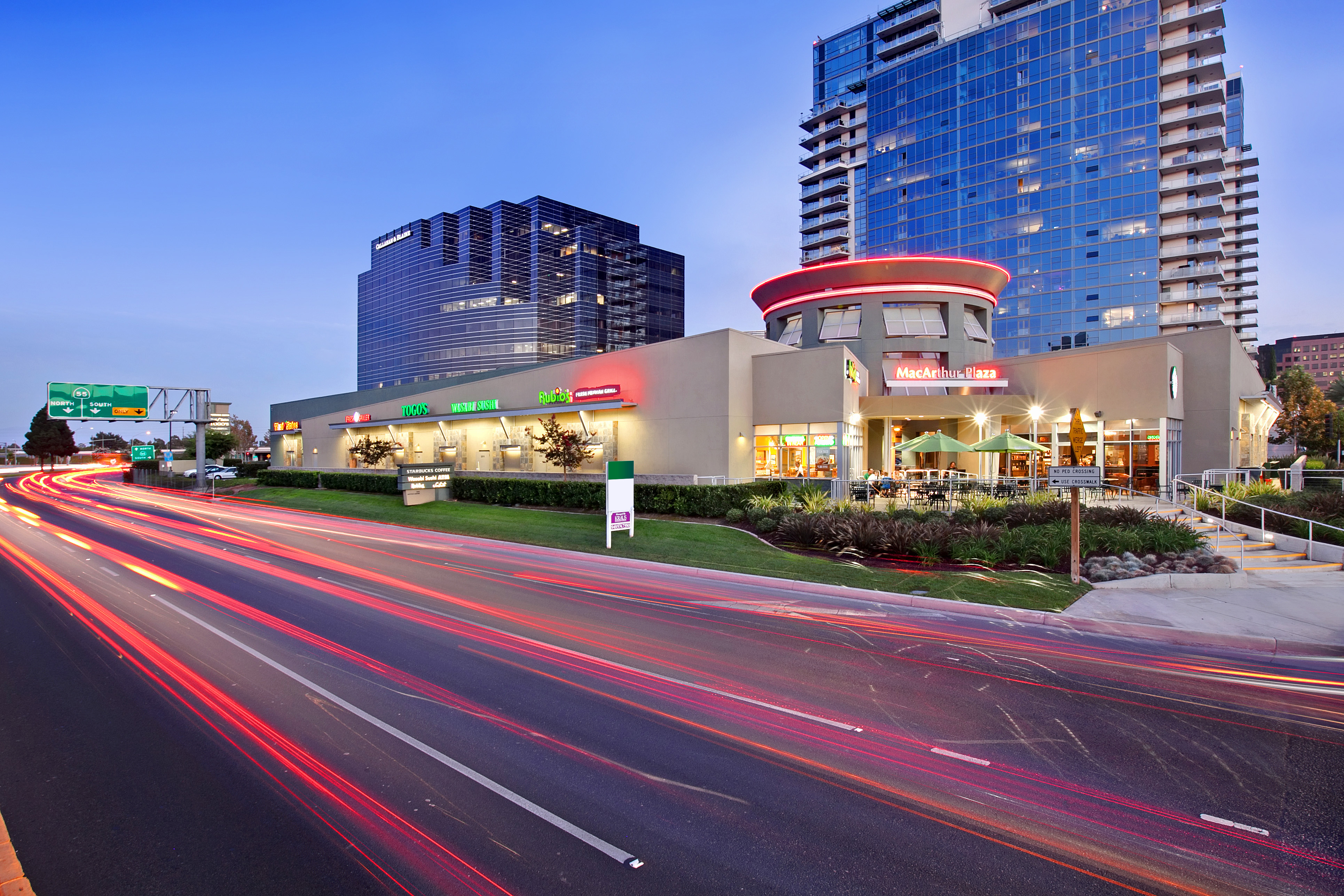 - March 20, 2014 /MarketersMEDIA/ —
MacArthur Plaza Sells for $10.9 Million, 5.70% Cap Rate, $809 PSF
SANTA ANA, CALIF. CBRE Senior Vice President Philip D. Voorhees announced today that he, Jimmy Slusher and their National Retail Investment Group – West (NRIG-West) team completed the sale of MacArthur Plaza, a 13,468-square-foot multi-tenant retail strip center that includes well-known fast-casual restaurant tenants Starbucks, Rubio's, Togo's, and Thai Spice in the city of Santa Ana, Calif. The sale price was $10.9 million, representing a 5.70% cap rate, at a market-leading price of $809 per square foot.
CBRE's retail investment experts Voorhees, Slusher and their team represented the seller, David Fried, and his Los Angeles-based investment and management company, Fried Asset Management, publishers of The Buyback Letter. The buyer, represented by a cooperating/selling broker, was a Los Angeles-based private investor.
MacArthur Plaza is located at 2 Hutton Centre on 1.50 acres in a central, infill portion of the South Coast Metro area of Santa Ana, proximate to the 55 (Santa Ana) Freeway. Built in 2001, the property was 93% occupied at the start of marketing, and 100% occupied at the time of the sale due to aggressive leasing efforts on the part of Fried, said Voorhees.
Voorhees added that the CBRE team's marketing system distributed more than 600 offering memoranda to investors and brokers, and through the team's "managed bid" offer process, generated 6 aggressive offers to purchase the property in just a few weeks of marketing.
"Once again, our team's broad, cooperative and systematic approach to marketing produced a very competitive bidding process," said Voorhees. "The record-setting price per square foot for a strip center of this size in Orange County is the result of the strong rents in place at MacArthur Plaza. The property is the quintessential strip center investment featuring restaurant, retail and service tenancy, just the sort of property that provides a strong defense against competition from internet retailers and super rental growth over the hold period."
With this closing, CBRE's NRIG-West team has closed 84 transactions since the start of 2012, for total consideration of $1.7 billion. In total, the NRIG-West team has listed and sold more 500 retail properties totaling more than $7.7 billion in value. Some of the NRIG-West team's current Southern California listings include Rancho Temecula Town Center in Temecula, Calif., listed at best offer; South Hills Plaza in West Covina, Calif., listed for sale for $21,940,000; Plaza del Rancho in Valencia, Calif., listed for sale for $16,306,000; and Garden Grove Festival Square in Garden Grove, Calif., listed at $12,087,000; to name a few.
About CBRE Group, Inc.:
CBRE Group, Inc. (NYSE:CBG), a Fortune 500 and S&P 500 company headquartered in Los Angeles, is the world's largest commercial real estate services and investment firm (in terms of 2012 revenue). The Company has approximately 37,000 employees (excluding affiliates), and serves real estate owners, investors and occupiers through more than 300 offices (excluding affiliates) worldwide. CBRE offers strategic advice and execution for: property sales and leasing; corporate services; property, facilities and project management; mortgage banking; appraisal and valuation; development services; investment management; and research and consulting. Please visit our website at cbre.com.

About CBRE National Retail Investment Group – West (NRIG-West):
NRIG-West Team focuses exclusively on retail investment properties in the western states (including CA, OR, WA, ID, NV, MT, WY, UT, AZ, NM and HI). The Team's ability to collaborate across CBRE's multi-discipline platform enhances the team's role as strategic advisors to Western U.S. clients in the disposition and acquisition of retail properties, and ensures the delivery of superior results in today's investment market. Long recognized as industry-leading investment experts, the NRIG-West Team continues to specialize in portfolio, anchored centers, strip centers, single-tenant assets, specialty retail projects, REO and Receivership assets and parcelized disposition strategy opportunities. Based in Orange County, California, the Team consists of specialists with institutional and private client relationships, and leverages institutional quality knowledge and service across unparalleled access to private capital investors and the brokers who represent them, domestically and around the world. View listings: listings.nrigwest.com
Media Contact
Company Name:
CBRE
Contact Person:
Philip D. Voorhees
Email:
Send Email
Phone:
949.725.8521
Country:
United States
Website:
www.nrigwest.com
Source:
www.abnewswire.com
Release ID: 37127