Japan - February 8, 2023 —
The platform features attractive brands and a dashboard for merchants to share their positive impact initiatives. Shoppers can choose a cause and soon track their impact. Online sellers get customer traffic and pay a referral fee to nonprofits. Support4Good is transforming shopping and making a positive impact on the world.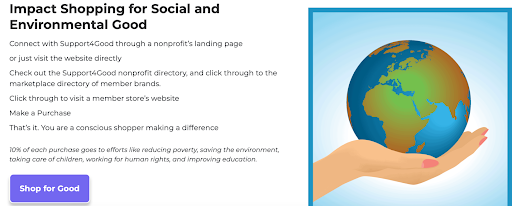 A new online shopping network is making waves in the e-commerce world by offering a platform for shoppers, online sellers, and nonprofits to support causes through online shopping. The network, known as Support4Good, is a positive impact shopping network that is helping to build a community of conscious consumers who are empowered to make a difference through their purchasing decisions.
Support4Good offers online stores that donate to charity by providing a platform for merchants to share their positive impact and their unique sustainability and human rights initiatives with their stakeholders. The platform raises money for causes by offering a selection of only "positive impact partners," which are nonprofits or exemplary circular economy companies available to support through a shopping link.
Empowering shoppers is a top priority for Support4Good. The platform curates a selection of attractive brands, giving shoppers the power to select the "positive impact partner" they want to support. Soon, shoppers will also be able to track their impact through a "positive impact profile." When a new emergency arises worldwide, the platform reserves a place on the homepage to draw attention to the issue, making it easy for shoppers to support the cause.
Shoppers can feel good about their purchases knowing that their shopping is helping a cause that is meaningful to them. The platform provides users with the ability to purchase goods that contribute to a charitable cause of their choosing, and customers have access to a wide range of organizations that work to protect human rights and the environment.
Support4Good offers online sellers a new marketing channel that accepts merchant stores using USD, Euros, and Japanese Yen and accepts online stores using platforms like Woocommerce, Shopify, Wix, Weebly, and Squarespace. By joining, online sellers receive customer traffic from the nonprofit network and Support4Good. For each successful referral that results in a purchase, the seller pays a fee, and the nonprofit earn 5-10% of the sale. Support4Good also charges an additional 5% transaction fee. By displaying the trust logo on their site, online sellers can show that they are a business that gives back to society.
The causes supported by Support4Good are diverse and make a real difference in the world. The platform allows customers to see the impact they are making through their purchases. With every purchase, customers can feel good knowing that they are supporting a cause they care about and making a positive impact on the world.
To sum up, Support4Good is a game-changer platform that will revolutionize the e-commerce industry. The platform provides a positive impact shopping network designed to assist shoppers, online sellers, nonprofit organizations, and other "impact partners" in contributing to various causes through the use of online shopping. Support4Good is positively affecting the world and altering the way we think about shopping by providing consumers with more agency, fostering the development of communities, and simplifying the process of contributing to charitable causes.
Contact Info:
Name: Andy Cline
Email: Send Email
Organization: Support4Good
Address: Japan
Website: https://support4good.com

Release ID: 89089834