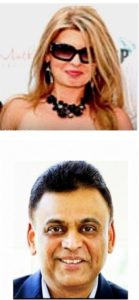 - June 6, 2017 /AuthorityNewsNetwork/ —
Nick Mysore, the marketing and branding strategist behind the highly popular advertising slogan "Got Milk?" and Adrienne Papp, a celebrity publicist and journalist, who recently launched a very successful marketing and publicity platform, called Youthful & Ageless, have combined forces to offer a comprehensive and cost effective new marketing, branding and publicity engine designed to help startups, small and medium-size companies, along with the biggest corporations in the health, wellness and anti-aging industries. Papp also announced that Mysore has been added to the Board of Directors of Youthful and Ageless, one of the sites operated under her Atlantic Publicity domain.
A Texas-based marketing and branding strategist, Nick Mysore is one of the most visionary professionals on the landscape of marketing, advertising and branding. He served as Senior Director, Marketing Strategy and Insights for Dean Foods when the "Got Milk?" campaign captured the public imagination, and most recently was responsible for re-branding the organic and natural juice and food company Vim Vitae.
"My background includes all of the major business disciplines," Mysore explains, "everything from finance to traditional and digital marketing, from social media to advertising and strategic planning. I am also involved with private equity firms and venture capital firms and help them rebrand and rebuild their company portfolios."
Their combined talents are formidable when utilized over the robust platforms launched by Papp through her Adrienne Papp Enterprises Franchise, offering unique capabilities to companies interested in penetrating the health, wellness and anti-aging markets, both in the U.S. and internationally.
The new branding and publicity platform is designed to provide constant exposure to create awareness with over half a billion targeted and pre-qualified customers. "It is a comprehensive digital branding platform that provides on-line consumer interaction and presents information in a way that consumers quickly understand what the brand has to offer," Papp says.
"In teaming up with Adrienne and Atlantic Publicity's Youthful and Ageless, my goal is to help companies who do not have the capabilities to do their own digital branding and to help them understand the intrinsic value of what an incisive branding effort can do for them," Mysore explains. "Branding involves taking the image and message of what your company stands for and getting that out to people as widely and as effectively as possible. Adrienne created the platform to help small to midsize companies compete with big ones on the most recognized media outlets in the world."
"We are also capitalizing our more than 700,000 social media followers and celebrity clientele. The platform guarantees that the manufacturer's health conscious, fitness-oriented products will be picked up very quickly. We achieve this by presenting a very simple editorial message that attracts attention," says Papp.
"Branding while selling is what I offer with Nick, as opposed to branding only and waiting for recognition and revenue for 17 years, which is the general industry average for anything entering the mind of the general public on a level of understanding a concept, a product or a service," adds Papp.
"In the current business environment, effective marketing and branding may be confusing, as it can involve a multitude of efforts on many different evolving platforms," Mysore explains. "Effective marketing establishes the identity of the company and its products in a way that is appealing and rightfully so. Managing a brand is a critically valuable commodity, since a brand identifies the personality of a company and its products. Branding is always a value creation process for any business, large or small."
"Small companies cannot wait. They need to sell right away, but their brand, their name and what their products have to offer is unknown due to the fact that the anti-aging industry is new," adds Papp. "I addressed this issue 13 years ago when I was a guest professor in marketing and advertising at one of the European extensions of Oxford University."
"A brand carries a certain amount of emotional connection with the consumer," Mysore continues, "which is why Adrienne's editorials are so valuable. They connect the consumer to the product, idea or service by association to the story. That's what makes a Rolls Royce a Rolls Royce, Louis Vuitton a Louis Vuitton and Apple products exceptional in the view of their customers. There's a connection to the whole hierarchy of the value creation process, and a brand can become a living thing over time. It can take on a life of its own by capturing the public consciousness. That's the challenge that Adrienne and I, with these innovative and visionary marketing and branding programs, are here to help solve."
Company Name: Youthful & Ageless
Contact Name: Adrienne Papp
City: Santa Monica
State: CA - California
Country: U.S.A.
Phone: 310-451-7403
Email: adrienne@atlanticpublicity.com
Website URL: http://youthfulandageless.com
Source URL: http://authoritynewsnetwork.com/branding-icon-nick-mysore-and-celebrity-publicist-adrienne-papp-join-forces-to-bring-a-unique-platform-to-the-anti-aging-industry/
Release ID: 205202