Oxford, Alabama, United States - February 17, 2023 /MarketersMEDIA/ —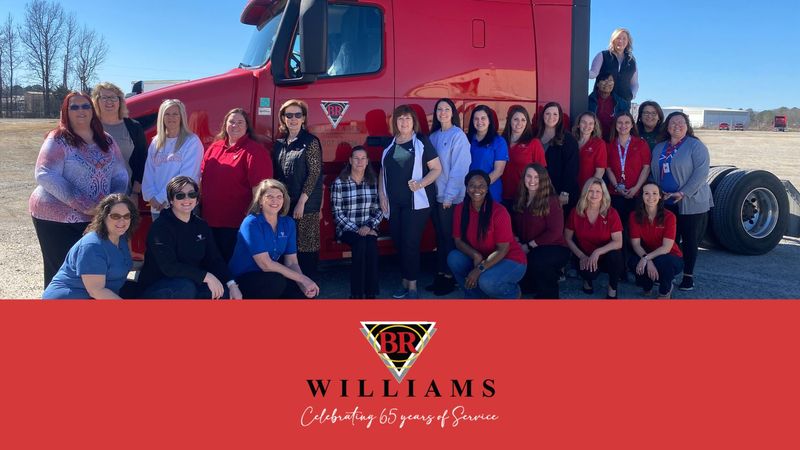 One of the nation's top logistics providers, BR Williams Trucking, is proud to honor women this March in recognition of Women's History Month and celebrate the achievements of its female employees. Over the years, women have made significant contributions to the logistics industry, and their numbers continue to grow in this historically male-dominated field. 
BR Williams is constantly looking for ways to recognize women in trucking, and this month is an excellent opportunity to highlight the many amazing women who have played significant roles in the logistics sector. Women are highly successful in a variety of supply chain professions, from truck drivers to executives in supply chain management, and contribute substantially to the sector's growth.

"When you pass a truck on the highway, and you take a glance at who is behind the wheel, you may begin to notice more women in the driver seat. While the industry is still male-dominated, we are seeing a shift with more female drivers entering the industry, which is a necessary shift for the crucial expansion of the candidate pool to help ease the burdens of the supply chain issues that have been a hot topic since the beginning of the pandemic. We have seen a positive impact by encouraging women to enter the transportation industry. Female drivers tend to be more risk-averse, typically resulting in better safety records. Additionally, female drivers tend to have longer tenure, which leads to lower turnover rates among women. In 2022, BR Williams had less than a 9% turnover rate among female drivers and was proud to acknowledge more female drivers than ever who have reached a safe driving milestone in a single year. BR Williams recognizes the value of expanding our fleets to accommodate all safe and eligible professional drivers by providing an incredible work-life balance and a culture that thrives on family values and a safety-first mentality. We are beyond excited for the future. We hope you are, too."
Shannon Butler, Esq., VP of Human Resources | In-House Counsel, BR Williams

Many companies, including BR Williams, are making strides toward empowering more women to pursue careers in logistics. They strongly encourage women of all ages and stages of their professional lives to enter the male-dominated trucking business and pursue rewarding jobs in logistics.
Whether an employee is a mom or a caregiver upholding family values, BR Williams is willing to work with them to find a schedule that suits their needs. Women are working as drivers, in the maintenance department, in the distribution centers, and in the administration at BR Williams.  

"Looking back over BR Williams history, we would not be the company we are today without the strength, determination, and faith of an amazing woman, Ruth Williams. After the unfortunate and untimely death of her husband, a school teacher was left with two young daughters and a trucking company. With the will to keep her husband's dream alive and undeterred by setbacks, she learned the ropes of running a trucking company as a woman in a man's world. Without her leadership, we wouldn't be the company we are today. Today we have women in all areas of our company - OTR and local drivers, transportation maintenance, clerical support staff, and leadership teams. And yes, women are well-represented on our Executive team. I can confidently say that without strong women in transportation, BR Williams would not be the growing company we are today." 
Tammy Thornburg | VP - CFO, BR Williams

While March is Women's History Month, businesses need to think ahead about future challenges women may face. It's time for the logistics industry to think about how women can make further strides in the profession and how organizations can benefit from promoting gender equality. There is no doubt that women have made significant progress in logistics, but much more work has to be done.
For this reason, BR Williams takes pride in championing women truck drivers. In 2023, the company celebrates its 65th year of business and forever respects the strength and leadership of Mrs. Ruth Williams and the sacrifices she made in continuing her husband's business. This Women's History Month, and always, the company will continue to celebrate the achievements of women in the past and invest in their bright future. BR Williams recognizes women's significant contributions to the logistics industry and applauds their success.
About BR Williams Trucking
BR Williams is a family-owned Trucking, Warehousing, Fulfillment & Logistics Company serving customers since 1958. They offer nationwide transportation services through their fleet and logistics division.
The company aims to provide its customers with top-notch supply chain services. Clients, business partners, and employees can trust the BR Williams team to honor this commitment in all transactions. On July 27th, BR Williams will celebrate its 65th year of operations.
For more information, visit https://www.brwilliams.com/

Contact Info:
Name: Contact Us
Email: Send Email
Organization: BR Williams Trucking
Phone: (256) 831-5580
Website: https://www.brwilliams.com/

Release ID: 89090458