Canada - September 3, 2022 —
Black Monk Production is a small, but innovative production company with a focus on telling impactful stories of creativity in Africa.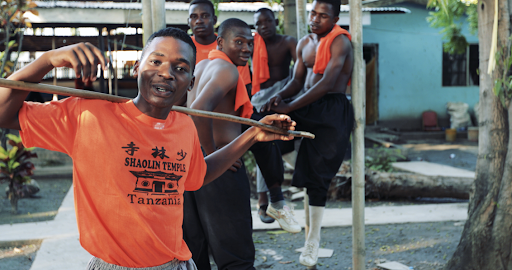 Saidi Upinde, Hajji Mbate, Salehe Maliki, Ismaili Upinde and Joseph Christopher of Shaolin Tanzania
To date this Vancouver based production company has specialized in short films, and now they are preparing for their first full feature project that takes place in Dar Es Salaam, Tanzania. Here, with the help of a world renown stunt team, Black Monk will offer a professional level film fighting workshop and cinematography workshop. Every step of the way will be documented in order to share the transformation and growth of the next generation of Tanzanian filmmakers.  
Black Monk Production is a team of Canadian-based professionals in the filmmaking industry composed of Eric Mazimpaka (a Vancouver based stunt actor and director), Mark Hemstock (a Cannes Festival Best TV Series/Pilot award winning cinematographer and director), Stanton Chong (a Vancouver based fight and action cinematographer and director who honed his skills working with the Jackie Chan Stunt team, Patrick Henderson (a Halifax based writer, assistant director and producer), and Dan Ginnane (a Vancouver based actor, stuntman and fight choreographer), Trevor Ball (stills photographer), Nicki Lochmatter (project consultant). 
This documentary is a passion project from the mind of Eric Mazimpaka and parallels his own experiences as a member of the Diaspora. Born in East Africa, and then raised in Sweden and Canada, Eric grew up feeling the struggle of identity between his African roots and the new country his family called home. This push and pull was a powerful fuel, and when combined with his exposure to Wu Tang Clan, kung fu movies and Capoeira, drove him to exploring film and martial arts as his artistic outlet. He found freedom through cinema. These early influences shaped Eric's interests as a filmmaker, and eventually are what lead to his discovery of Shaolin Tanzania.
 A few years ago while scrolling through obscure kung fu films on Youtube, he stumbled across a short fight video made by a group of kids in Tanzania. The video quality was low, the camera angles were off and the editing was choppy, but the acting and kung fu was STRONG! The sheer passion and skill of these performers was undeniable, but what was missing was the cinematography experience to translate these skills to film.  
Questions started forming. What types of stories would these kids be able to tell if they had access to quality film equipment and film education? How much richer would stories about the Black experience be if there was a strong infrastructure to support the creation and the export of film from East Africa?  
These questions lit a fire in Eric, and soon after discovering this video he arranged for a small team to fly with him to Dar es Salaam and meet with Shaolin Tanzania, where they shot a short film in 2019, an African Kung Fu Western called Boy In the Canopy. This first project together proved what he suspected, that these kids, when given the right infrastructure, were naturals on screen, and upon returning to Canada, Eric started laying plans for bigger projects. 
In the fall of 2022 the Black Monk team will be offering its first one week intensive "Freedom Through Cinema" workshop covering the basics of filmmaking, with subjects ranging from (but not limited to) writing a strong character arc, to choreographing a fight scene that tells a story. The whole process will be documented by the masterful hand of Mark Hemstock, and will dig deep into the lives, discipline and raw creativity of this African Kung Fu school on their journey to becoming performers and filmmakers. 
His summary of the Kung Fu Story documentary is available on YouTube. Eric feels connected to this project on a deep level, stating the following:
"It is my sincere belief that we can find Freedom Through Cinema" - Eric Mazimpaka 
More information about Black Monk Production is available on the company's official website.

Contact Info:
Name: Eric Mazimpaka
Email: Send Email
Organization: Black Monk Production
Address: Canada
Website: http://www.africaakungfustory.com/

Release ID: 89081050