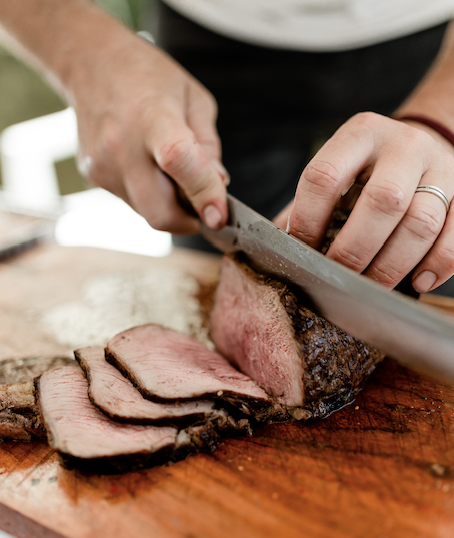 Woodville Australia - March 2, 2022 /MarketersMEDIA/ —
Big Red Knives, an all-new collection of Australian knives designed to elevate the BBQ cooking experience, is live on global crowdfunding platform
Kickstarter
and raising funds to bring the project to life.
Australian BBQ is more than just a way to cook for Aussies— its a way of life. Almost everyone 'down under' has a BBQ in their backyard and on warm summer nights the unmistakeable scent of grilling permeates the air. Having a BBQ is more than just great food, it represents a great time creating lasting memories with friends and family while enjoying the great outdoors.
"The inspiration for this collection comes from our love of knives, outdoor and indoor cooking, and great times with family. We have produced some absolutely phenomenal knives in the past, but this collection is really special for us," says co-founder Shannon Dolman. "We have been working on them for over 2 years, in collaboration with butchers, chefs, sports fishermen and cooking enthusiasts, to create a collection of specialist knives for any tasks in and around the Aussie BBQ."
The
Big Red Knives
are a collection of knives made in honor of Australia and their native animals. They are a new range of high-end BBQ knives that have been in the works for over 2.5 years ensuring every curve and contour of each knife is nothing short of perfection. Included in the set are 6 knives; each varying in length, thickness and weight to ensure a perfect experience from preparation to serving.
Each knife is created with VG10 high carbon stainless steel ensuring a razor-sharp cutting edge. The core is then clad with the same stainless steel for protection. Each knife is then complete with a unique Australian wooden handle imposed with colored resin— paired to the animal that inspired them. Each handle is then fine tuned to fit snug in the hand (both left and right) no matter what grip is used.
"At their core, Big Red Knives are western-style knives with Japanese steel toughness. They hold their edge much better than Global, Wusthof, Wiltshire, Mundial, Victorinox and all the rest. The handles are super comfortable and fit firmly in the hands, something Japanese style grips can feel too light or unbalanced with their hidden tang design," adds Dolman. "When we handed one of these to a chef friend he said, 'Wow, you sure know you're holding a knife when you pick one of these up'."
Australian BBQ Knives is currently live and available to support on Kickstarter:
www.kickstarter.com/projects/koiknives/australian-bbq-knives-by-big-red-knives
About Big Red Knives
Big Red Knives was founded by two Adelaide based, knife obsessed characters who love kitchen knives almost as much as they love Australian Animals. We are focussed on making high quality knives for professionals and enthusiasts that are stunning, functional and reliable. For more information on Big Red Knives please visit
www.koiknives.com
###
Contact Info:
Name: Chris Woods
Email: Send Email
Organization: Big Red Knives
Website: https://www.koiknives.com

Release ID: 89066142