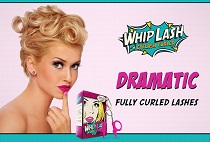 - March 5, 2014 /MarketersMEDIA/ —
March 4, 2014 / Crave Naturals is one step further in getting the word out about their Whiplash Eyelash Curler. In the February Issue of Beauty News NYC Best Bets, Whiplash Eyelash Curler was featured the number one product.
Featured in the February issue of Beauty News NYC, Crave Naturals' Whiplash Eyelash Curler was ranked #1 as an Editor's Best Bet. Amy Sciaretto, beauty editor of Beauty News NYC was thrilled when Whiplash came across her desk. After she fell in love with the eye catching graphic novel packaging, she remembered her makeup artist instruct her to always curl her eyelashes to make her eyes stand out. After using the eyelash curler by Crave Naturals, she stated "the handle is ergonomic, so I was able to have control and curl at the root for maximum lift. My faith in my lashes and their ability to hold a curl is restored."
Amy goes on to mention that she has had an "inability to get a starlet-worthy curled lash that lasts, no matter what technique (heated curler, root lifting mascara formula, etc.)" she's used. However after she used Whiplash, curling her lashes is no longer a problem.
Being featured in Beauty News NYC was just one more validation that Whiplash Curler is paving its way into the beauty industry. After being labelled one of the best-selling lash curlers on Amazon, Crave Naturals has been experiencing a surge in sales and loyal fans.
"Our number one priority is to give our customers and our fans an unforgettable experience," said Kristen Heaton, owner and founder of Crave Naturals. "Without our customers, we don't exist. That's why our goal is to ensure they have an excellent experience when shopping with us," she added.
According to Crave Naturals, it offers the latest enhancements based on customer feedback that helps set them apart from competitors.
"We care about our customer opinions. We want to know what they do and don't like and what we can do to improve our products and services," said Heaton. Every customer of Crave Naturals is invited to contact the founder and CEO and inform her of what they like about their products and where there could be improvements. "Getting feedback from our customers is important. It helps build a positive relationship with customers, while also finding ways to give them what they want by improving our products and selection," explained Heaton.
The founder and CEO was very focused on finding a way to make her customers feel like top priority, which is what led to the development of the Priority Craver Program. This program became instantly popular. Customers and fans can sign up free of charge to become a Priority Craver on the company website. The benefit of being part of this exclusive membership is the valuable coupons and product offers that Crave Naturals offers. "We release discounts of 15%-70% to our Priority Cravers on a regular basis and during product launches, we will be offering our new products free to try in exchange for feedback," explains Ms. Heaton.
Crave Naturals looks forward to new, innovation products and continued growth in the beauty, makeup and cosmetic space. After the success of Whiplash eyelashes curler, Crave Naturals will be expanding their product selection and hope to get a larger fan base.
"We are a growing company and we want to continue to grow and expand our product selection. Being featured in Beauty News NYC was such an accomplishment for us. It pushes us to break other boundaries in the beauty industry and get the word out about our unforgettable products," said Heaton.
About Crave Naturals
After spending several years using different beauty products and accessories, the owner and founder of Crave Naturals desired to develop a company that provided professional, high performance beauty products. All products are tested and used daily by the owner. Crave Naturals products are available on Amazon and the company website.
Release ID: 34978