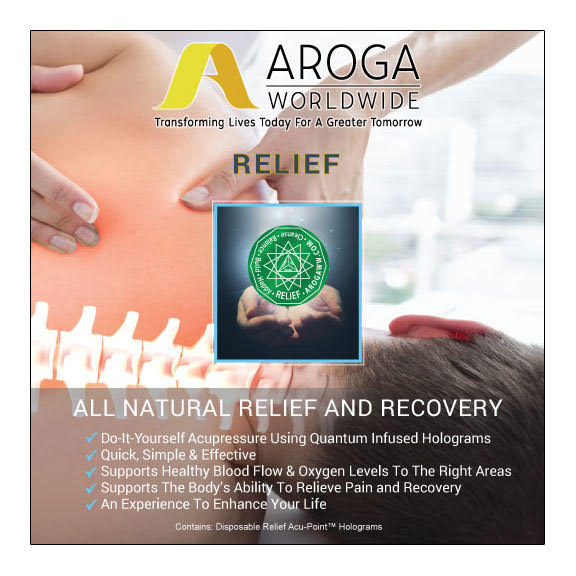 Seattle United States - August 2, 2016 /MarketersMEDIA/ —
Aroga Worldwide
, is rapidly becoming the largest manufacturer of Energy Infused Holograms, and is expanding Global distribution. For thousands of years, Acupressure and Acupuncture have been recommended by Healers to support the body's functions. In recent years, new technologies have been developed that allow energy to be delivered to Acupressure points on the body. One such delivery method is a Quantum Infused Hologram, being sold, under the name Acu-point Holograms, developed and manufactured by Aroga Worldwide. These Holograms, placed on the strategic Acupressure Points (also called meridians) on the body, are believed by many, to help in supporting the body's functions and help to maintain a harmonic and balanced body.
Aroga's original product line, included, Holograms that focused in three areas including pain relief (called Relief), sleep aid (called Sleep) and energy enhancement (called Energy). Recently Aroga added three more Holograms, which focus on supporting the body in the areas of weight control (called Fit), mental clarity (called Focus), and sexual support (called Pleasure). Aroga Worldwide, doesn't make any claims that their Holograms heal any diseases, or other conditions of the body. Instead, Aroga advertises their Acu-Point Holograms as a safe and effective way to do-it-yourself Acupressure.
"For individuals that are already using Acupressure, or for those individuals interested in trying an alternative method for Acupressure to create a harmonic and balanced body, our Acu-Point Holograms are a safe and cost effective way to achieve their goals" ~Grove Bennett, Aroga Worldwide, CEO
Aroga Worldwide opted for Direct Selling as their distribution method for their Acu-Point Holograms. Growing in popularity, as well as respectability, Direct Selling is rapidly becoming a preferred choice for companies to get their products to Global Markets, and in record time. In just 12 short months, Aroga Worldwide is already delivering their Holograms into over 130 countries through an Independent Distributor base of thousands of individuals, who are selling the Aroga Holograms through websites, and in person to retail and wholesale customers.
Aroga Worldwide
, is one in a group of six companies under the umbrella of Aroga Holdings Corp, a publicly listed company. Aroga CEO, Grove Bennett, has an extensive business resume. Having the experience of running private and public companies, from operations, manufacturing, business development, finance and customer relations. Bennett has worked within the major credit card and banking industries, and even headed up a team that developed training programs for Integrated Maintenance Training System (IMTS), a maintenance training system for the F/A:18 Fighter Jet and a $44MM Canadian contract to the Royal Canadian Air Force and the Royal Australian Air Force.
Aroga's Acu-Point Holograms are are small, portable and disposable. Each Quantum Infused Hologram is smaller than a US Quarter, and thinner than a postage stamp. The energy is infused into a design, that can best be described as a circuit, or chip technology. The Holograms stick to the skin with a non-allergenic adhesive, and can be worn as long as needed. Each Hologram is color coded to remind the user of which application the Hologram is recommended for. As a do-it-yourself product, the user not only benefits from the convenience of the Holograms, but can also save considerable amounts of money using Aroga's Acu-Point Holograms.
On the distribution side of the Aroga business, Direct Marketing Professionals are taking note of Aroga Worldwide, including Veteran Internet Marketers like Eric Grant and Chris Cartmill, who co-founded the Technology and Home Business Blog, www.Qastme.com (pronounced: Cast Me). Eric Grant, an entrepreneur with a 20 year background in network marketing and home business, and Chris Cartmill who has an extensive background in SEO and SEM, teamed up several years ago to create a better way to reach out to other Networkers and individuals interested in making money from home. They have built several sales networks into the multiple thousands of individuals, by utilizing their online skills and methods.
"I've never seen a company with all of the right components, as Aroga Worldwide. After 20 years in the Direct Sales Industry we've learned how to recognize the potential for a successful company. Grove Bennett has assembled the most highly qualified management team, that I've ever seen. Along with the Hologram product line, Mr. Bennett's team developed an extremely well-thought-out compensation model, one that rewards Reps at all levels of achievement. I actually see Aroga providing people with solid opportunity to share in the success of this growing group of companies. We are looking forward to a great future with Aroga Worldwide, and we are devoting a considerable amount of our online resources to building a huge global team of Product Distributors for Aroga. ", says Eric Grant.
Learn More Here
Contact Info:
Name: Eric Grant
Email: Send Email
Organization: QastMe
Website: https://www.arogaworldwide.com/egrant

Release ID: 126007