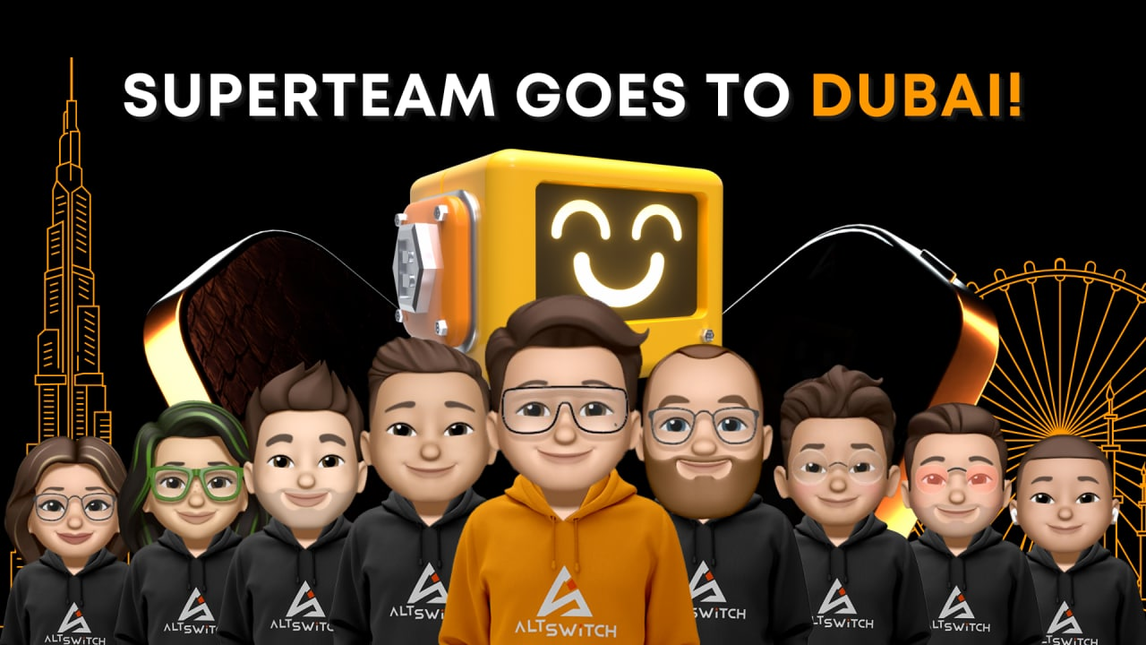 - March 3, 2022 /MarketersMedia/ —
AltSwitch
is proud to announce that their core team members are suiting up to attend one of the biggest stages in the world of crypto, the AIBC Summit Dubai this March 20-23, 2022.
The goal for this endeavour is to expand networks, broaden their brand reach and create strategic partnerships with distinguished organizations and individuals as some of the top names in the crypto space will also be in attendance on this 3-day affair.
AltSwitch an up-and-comer
The project is only a month old but has been able to deliver on its goals and targets with its community of holders. The list of its achievements for a short period of time reflects the project and its core team's commitment to its long term vision of establishing an ecosystem built for Web 3.0 and the Metaverse. The list of its achievements includes but are not limited to:
● Social Media Accounts Growth
● Onboarded Big YT Influencers
● 1K BNB Hardcap filled in 80 minutes
● AMAs in collaboration with Big Crypto Communities
● Pinksale Listed with KYC and Audit Badges
● 5 Years LP Lock
● Listed on CGK after 16 hrs and CMC after 36 hrs from Launch
● Trending on Minor and Major Listing Platforms including Pinksale, CMC, Crypto.com and Dextools
● AltSwitch Dashboard
● Safepal Logo
● AltSwitch Original Anthem
● Info-videos
● Major giveaway contests with prizes such as Apple products.
● Daily Minor Giveaways
● Weekly Townhall AMAs
● BSCscan Verified
● Mainstream Media Features
● Burned 55M $ALTS Worth $100k+
● Paid $100K+ Dividends to AS Holders
● NFT Preview
First-of-its-kind Universal Rewards Protocol
AltSwitch is a market pioneer in providing rewards in any coin/token and gives users complete control over which rewards they would like to receive. Combining this with their mission of building a vast ecosystem of AltApps and Services on their DAO platform is a completely revolutionary direction the likes of which is unprecedented in the world of crypto. The potential of its Universal Rewards Protocol is unimaginably vast and is definitely worth the world's attention as the next big thing in crypto.
AltSwitch withstands market blows
The project has not been met with the best market conditions as it has had to withstand the blows of multiple downtrends in the span of its first-month post-launch. The conditions have affected the token's chart but nonetheless, the liquidity of the project remains on healthy levels and ongoing developments which is ultimately more valuable to the long term success of the project and shows the team's commitment for the project's vision to come to life.
What's next for AltSwitch
The developments have been ongoing in the background in preparation for AIBC Summit Dubai. The core team has some big revelations for the future of the project that are game-changing in the crypto space. Staying true to their brand DNA of being trailblazers, pioneering innovative and impactful contributions to the world of cryptocurrency.
An NFT preview has recently been launched by the team as a sneak peek into the developments that are ongoing behind the scenes. These NFTs are designed to both be collectable as well as playable on their Play & Earn game that is currently undergoing development.
Another thing they plan to release very soon is a mystery feature simultaneously with their new and improved Dashboard 2.0 which was hinted to allow holders to "earn more with less" and would make the dashboard a lucrative source of income by serving as an ad placement platform for featured coins/tokens to be set as holders' rewards. As per the CEO BitMax, this is only the tip of the iceberg and they are preparing to present a potentially huge growth catalyst for the project.
Dubai Summit as a growth catalyst
The team is optimistic that their attendance at the AIBC Summit in Dubai will be a great catalyst for growth as they are able to network with some of the biggest names and organizations in the crypto space. One of the driving forces behind the project is to provide solutions for every arising issue and provide the most convenience to its community; this is a mindset the core team will bring with them as they set foot on this momentous summit.
The core members have expressed that they will use this opportunity as a form of Launchpad for the physical product that they are currently developing. Not much has been shared with the public about its specifics, but the tone set for this product is one of being a solutions driver that would be yet another gamechanger in the crypto space. This event will be a definitive milestone for the project as it lets its presence known and puts itself on the map for more investors to join in.
All of these combined is what makes AltSwitch a project that people will be able to rely on to deliver on its promises in the years to come. So if you were waiting for the perfect time to seize this opportunity, the time is now; invest and be a Switcher today.
Website: www.altswitch.io
Telegram: https://t.me/GlobalAltSwitch
Contact Info:
Name: AltSwitch
Email: Send Email
Organization: AltSwitch
Website: http://www.altswitch.io

Release ID: 89066597