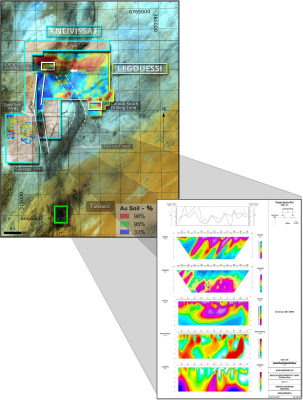 - March 29, 2014 /MarketersMEDIA/ —


MONTREAL, CANADA / Algold Resources Limited. (ALG: TSXV - the "Corporation" www.algold.com) announces progress on its Q1 2014 exploration program in Mauritania.




Preliminary IP results for the Kneivissat Central Zone over a strong combined magnetic anomaly and coincident gold soil anomaly are very encouraging. The E-W IP line are being laid over a silica-rich volcanic and metsedimentary sequence known as the Favourable Silicified Horizon, which extends from the Tasiast Mine (see PR March 3rd 2014). This area is recognised as a prime target by Algold technical staff and a first priority for subsequent RC drilling.




Francois Auclair, Algold CEO, commented: "These preliminary results showing coincident magnetometer, soil gold geochemical and IP chargeability anomalies are extremely encouraging and support our interpretation of the geological model of the Tasiast belt".




Currently, exploration work is being carried on both the Kneivissat and Legouessi properties. The Kneivissat property is 90% owned by Algold and the Legouessi property is being managed through a 51% earn-in interest agreement with Caracal Gold (Electrum Group Companies). Algold can earn up to a 90% interest in the Legouessi exploration permit (see October 10, 2013 press release for more details). Both properties are easily accessible by paved road from the capital of Mauritania, Nouakchott, and are situated in northwestern Mauritania, adjoining the world class Tasiast Gold Deposit.




Update highlights include:




Kneivissat :




-Assays results received for 437 samples - results shown on accompanying map (Figure 1),




-Completion of 2.7 km line of Pole Dipole Array IP Survey,




-Completion of 7.9 square km Dipole Dipole Gradient Arrays IP;




Legouessi :




-A further 149 soil samples sent for analysis in March, for a total of 328 since January,




-Assays results expected shortly,




-Completion of 17.65 km line of Pole Dipole Array IP Survey,




-Completion of 17 square km Dipole Dipole Gradient Arrays IP;




Kneivissat




The IP Pole Dipole survey preliminary results from L1 profile on the Kneivissat central grid area indicate four main chargeable and resistive anomalies within a conductive environment related to a folded and sheared volcano sedimentary zone. The anomalies present a good depth extension and the anomaly at station 600 is clearly associated with the important magnetic trend uncovers by the Airborne Magnetometer survey conducted by Algold in Q4 2013 (Figure 1).




Further, geological mapping and soil geochemical analysis have pointed out to two new prospective areas on the Kneivissat property, one located in the western corner of the southern part of the property and another in the south central part of the property, all related to metavolcanic and metasedimentary sequences.




Two IP grid are being surveyed on the Kneivissat property which covers 7.9 sq km for gradient arrays IP as well as 4 lines of 1 km for Pole Dipole arrays IP.




Legouessi




A total of 149 soil samples were sent for analysis in March. Assays are expected shortly.




A 21 km of pole-dipole lines and 17 square km of dipole-dipole gradient are planned on 10 prospective areas, three of which show coincident aeromagnetic and soil anomalies. Six pole-dipole lines have already been surveyed and results are pending. Dipole-dipole surveys will follow shortly. As for Kneivissat in the Legouessi Centre and SL areas, two main magnetic anomalies are related to carbonate and silica-rich alteration found in meta-ultramafic and metasedimentary folded and sheared sequences along with soil gold anomalies.




This Mapping and Geophysical Survey will be followed by an exploration drilling program in Q2 2014 over the most favourable prospects.




Quality Assurance / Quality Control (QA/QC)




Analytical work for soil geochemical samples and rock chips samples is being carried out at the independent ALS "Abilab" Laboratories Ltd. in Bamako, Mali. Samples are stored at Algold field camp and put into sealed bags until delivered by a geologist to ALS preparation laboratory in Nouakchott, Mauritania. Samples are sieved and prepared for shipping to Bamako. In Bamako, samples are crushed and pulverised to 200 mesh (80 micron) and a 30 gram split is analysed by fire assay with an AA finish. Blanks and duplicates are being used to monitor laboratory performance during the analysis. Analytical work for the drilling program conducted by Caracal was carried out at ALS Irish laboratory, under the supervision of a senior geologist.




This press release has been reviewed for accuracy and compliance under National Instrument 43-101 by Andre Ciesielski, DSc., PGeo, Algold Resources Ltd. Lead Consulting Geologist and Qualified Person.




ABOUT ALGOLD




Algold Resources Ltd is focused on the exploration and development of gold deposits in West Africa. The board of directors and management team are seasoned resource industry professionals with extensive experience in the exploration and development of world-class gold projects in Africa.




CAUTIONARY LANGUAGE REGARDING FORWARD-LOOKING INFORMATION




This news release contains and refers to forward-looking information based on current expectations. All other statements other than statements of historical fact included in this release are forward looking statements (or forward-looking information). The Corporation's plans involve various estimates and assumptions and its business is subject to various risks and uncertainties. For more details on these estimates, assumptions, risks and uncertainties, see the Corporation's most recent Annual Information Form and most recent Management Discussion and Analysis on file with the Canadian provincial securities regulatory authorities on SEDAR at www.sedar.com. These forward looking statements are made as of the date hereof and there can be no assurance that such statements will prove to be accurate, such statements are subject to significant risks and uncertainties, and actual results and future events could differ materially from those anticipated in such statements. Accordingly, readers should not place undue reliance on forward-looking statements that are included herein, except in accordance with applicable securities laws.




For further information, please contact:




Algold Resources Ltd.




1320, boul. Graham, bureau 132, Mont-Royal, Quebec, H3P 3C8, www.algold.com




Francois Auclair M.Sc., PGeo Yves Grou, CPA CA




President & CEO Executive Vice Chairman




f.auclair@algold.com
y.grou@algold.com



(514) 889 5089 (514) 237 7757




Figure 1


Click Image To View Full Size
SOURCE: Algold Resources Ltd.
Release ID: 38028