Miami, FL, USA - March 21, 2023 —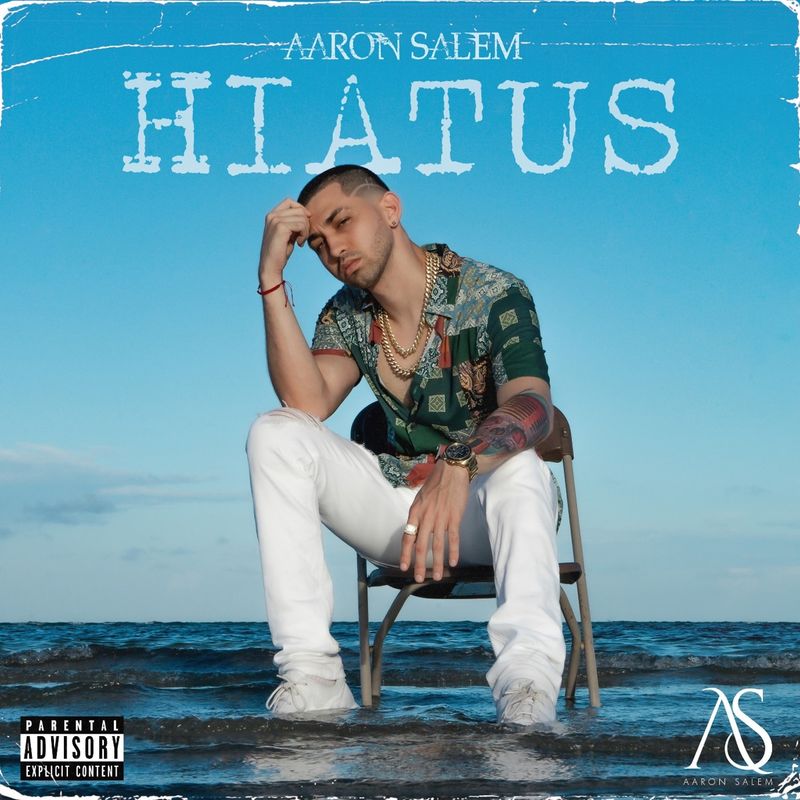 Independent Miami-based Hip-Hop/R&B artist, Aaron Salem, has released his highly anticipated album, Hiatus, which is now available on all major streaming platforms. The Cuban/Canadian artist, showcases his extraordinary talent through songwriting & production, as well as his ability to capture emotions and experiences through his 10-song album compilation.
Produced entirely by Dawsie Keys, born in the Virgin Islands and based in Miami, FL,  Hiatus is a masterpiece that features a unique blend of genres infused with introspective lyrics that delve into hype, love, loss, and personal growth. The album reflects Salem's journey as an artist, showcasing his growth and evolution since his last release "Only Way Out" EP in 2018. Hiatus features 10 tracks, each one telling a different story and taking the listener on an entirely separate journey. The depth and range of emotions conveyed through each track is a true musical prowess.
The Miami-based rapper/singer has already been making waves in the industry with his impressive work for major media platforms. In just a month, he has reached a combined 1,000,000 streams, showcasing substantial growth in his sound since his last album release in 2018! The numbers speak for themselves!
With Hiatus, Salem has once again proved himself as a force to be reckoned with in the music industry, as labels and endorsements line up seeing opportunity. The album's lead singles, "No Doubts" and "Falling," have been dominating social media, receiving over 500 saves A DAY on Spotify & Apple Music. Since the album's release, Salem has gained 25k followers on Spotify, with an estimated 35k-45k monthly listeners to date!
"Throughout my career, I have strived to create music that is both meaningful and relatable to my fans. Hiatus is no exception. I really took my time with this album. Keys (Daswie Keys) & I, probably narrowed 30 songs to 10. We really poured our souls into this album, and I'm excited to finally share it with the world!"- said Aaron Salem after an interview with The Source.
The visuals for Hiatus are equally impressive, with abstract and gritty designs that are eye-catching and mesmerizing. The album cover features a minimalist or 'deserted' design that perfectly captures the essence of the title. The visuals were created by a team of talented designers, with @SolidVibez being the photographer who worked closely with Salem to bring this vision to life.
Whilst being an independent artist, he has managed to create a worldwide buzz reaching U.S. states such as California, Georgia, Florida, NY & Texas to name a few, while also gaining international notoriety from Australia, Canada, Germany, Brazil & the U.K. His music has been praised for its relatability, emotional depth, and most importantly his unique sound. His ability to connect with listeners on a personal level has earned him a loyal fanbase and critical acclaim.
Hiatus is not just an album; it's a timeless masterpiece that will inspire listeners and leave a lasting impact on the music industry. With its unique sound, powerful lyrics, head-bobbing production, and mesmerizing visuals, Hiatus is a must-listen for anyone who loves great music, let alone a fan of Rap/R&B. Even with that being said, we're sure the best is yet to come!
Social Media: @AaronSalemMusic
Music Videos: https://www.youtube.com/AaronSalem
Website: https://aaronsalem.com
Contact Info:
Name: Aaron Salem
Email: Send Email
Organization: Salem Sound, Inc.
Website: https://aaronsalem.com

Release ID: 89092358