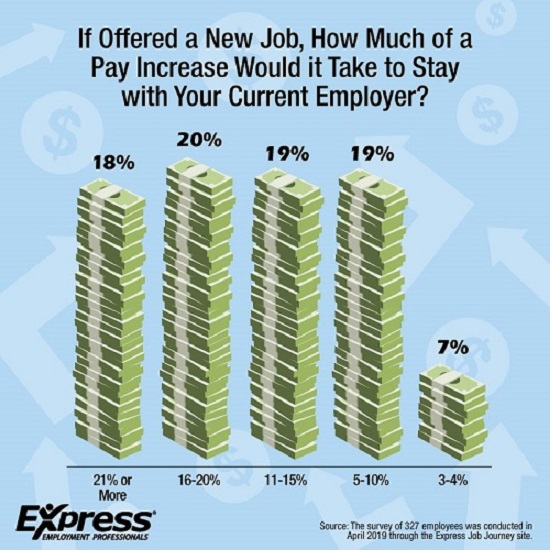 - July 29, 2019 /PressAdvantage/ —
July 25, 2019 - /PressAdvantage/ - Alpharetta, Ga. – Good talent is hard to find, and the tight labor market is leading some employers to wage bidding wars over talent. But many wonder how much money is enough to convince an employee to turn down a job offer and stay with their current employer.
In a recent survey, Express Employment Professionals, an Alpharetta staffing agency, posed that question to job seekers and also asked employers how much would need to be offered to a star employee to stay with the company. On average, the survey found that employees want more than employers are willing to offer.
Job seekers were asked that if offered a new job if a pay increase, would it take to stay with current employer. Employers were asked that if a star employee were offered a job with another company, if a pay increase over their current salary or wage would be offered to retain said employees.
Overall from the survey given by the Alpharetta temp agency, 57% of employees want a raise of more than 10%, while only 30% of employers would be willing to offer more than 10%, even to a star employee.
"It has never been easier for workers to jump between jobs," said Bill Stoller, CEO of Express. "And because workers are so mobile, there's less fear about leaving a 'good job' for a pay increase. If the new job doesn't work out, there are plenty of other employers eager to hire. Businesses have to keep fingers on the pulse of the local economy, or they risk losing the talent wars."
The Alpharetta Express Employment Professionals office is located at 6230 Shiloh Rd #130, Alpharetta, GA 30005. Local businesses and applicants can stop by, call (678) 461-7600 or visit online at www.expresspros.com/AlpharettaGA.
###
For more information about Express Employment Professionals of Alpharetta, GA, contact the company here:
Express Employment Professionals of Alpharetta, GA
Rodney Moore
(678) 461-7600
Jobs.AlpharettaGA@ExpressPros.com
6230 Shiloh Rd #130

Alpharetta, GA 30005
ReleaseID: 60029766
Contact Info:
Email: Send Email

Source URL: https://www.pressadvantage.com/story/29766-a-survey-from-an-alpharetta-staffing-agency-goes-over-tight-labor-market-keeping-upward-pressure-on-w
Release ID: 88901799