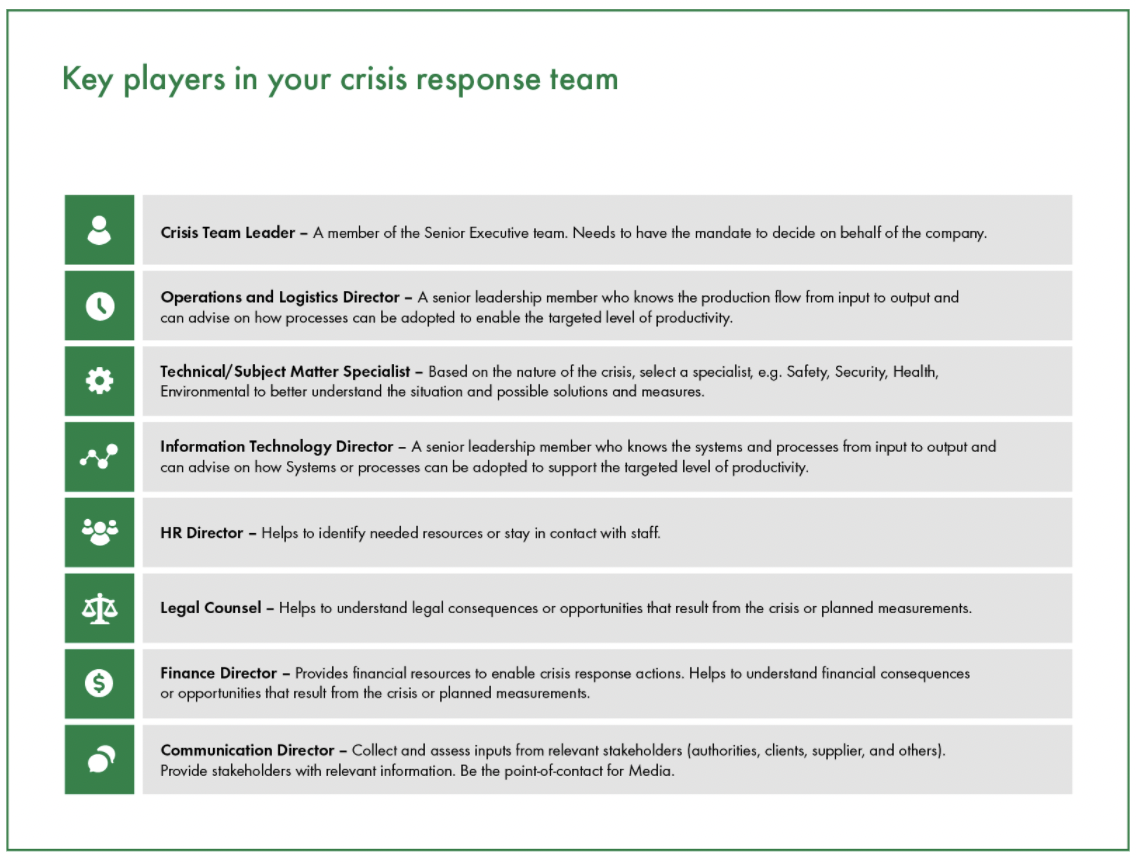 - February 17, 2022 /MarketersMedia/ —
A PR crisis occurs when an adverse event related to your business gains traction in the public sphere. Regardless of the crisis that occurs - an unhealthy business practice, an employee accident, or sexual harassment scandal - you need to put a plan in place to deal with the issue.
Crisis management is about limiting the damage done by the crisis. The key to successfully navigating a crisis is a good PR crisis management plan. Read on to find out what you need to deal with a PR crisis in your organization effectively. The PR crisis management tips discussed in this article will give you a good starting point.
1. Create a response team
It's almost impossible to avoid a crisis, but you can put a plan in place to deal with issues that could arise. One of the best ways to prepare is to have a response team. Every company should have a crisis management team in place. Create a team with its own goals, a new email account specifically for PR crisis management content, and a guide in place.
The guide should be regularly updated to address changes within the organization. Preferably, the team members should have intimate knowledge of different aspects of the business to identify and plug out any potential blind spots that can cause a PR crisis.
2. Create a strategy
Before you react to an event, you need to put a plan in place. Without a strategy, you're going to struggle to provide a coherent response. Determine who is allowed to speak to the press, the response you'll provide, and the language you use. An experienced PR crisis management company can help you develop an effective response.
Have your response team on high alert while monitoring the situation. It's important to show unity and speak with one voice during a crisis. The response team should lead all conversations and answer questions. In times of crisis, your PR response team should guide employees on the proper way to engage external stakeholders – which is always to refer questions to the response team.
Respond using approved messages. Company executives should not say anything without prior clearance and approved responses. Select representatives should be the voice and face of the business. That way, the key message is communicated consistently, eliminating any confusion or speculation.

Decide how often to address stakeholders as that can reduce misinformation. At the same time, make an effort to gatekeep certain information which might cause confusion or prolong the crisis. A good strategy should rein in the crisis and subtly dictate the flow of the discussion.
One good example of an effective crisis management strategy is how Samsung managed the Galaxy Note 7 battery issue in 2016. The company recalled all of its Galaxy Note devices, hired researchers to find out what went wrong, and kept consumers informed at regular intervals. Thanks to its quick, proactive response to the crisis, Samsung is still one of the leading smartphone vendors in the world.
A good response team includes company executives and external experts who can handle the media aspect of the response. Both sides collaborate to create a PR crisis management plan that addresses all stakeholders.
3. Get ahead of the story
You shouldn't discover new information about the crisis through the news, a Facebook post, or a tweet. After a crisis has happened, identify any information gaps and fill them. Without all the details, you won't address the crisis effectively.
As soon as the crisis strikes, disseminate the news first. Create a press release or draft a statement to address the issue. The information should be coming from you and not a third party with just a few details that other parties can spin to fit their narrative. A good example is how Facebook did not quite get ahead of the situation during the Cambridge Analytica crisis. Facebook's lack of action led to severe brand damage for the company.
At times, getting ahead of the story means an impromptu response as you figure out the finer details of the crisis. By getting ahead of the story and dictating the flow of information, you can lead the conversation and maintain your credibility. This way, the public will most likely follow your narrative and timeline of events.
4. Take responsibility
Taking responsibility shows that you have respect for your key stakeholders. It shows that you value their involvement, and you are sorry. Taking responsibility also shows that you are willing to remedy the situation. Do not try to cover up the incident as it will only make things worse.
Remember that you will re-engage with the stakeholders after the crisis. Taking responsibility is a sign of maturity and shows that your company is trustworthy. Remember that you are ultimately dealing with humans who have emotions. You want them to have positive emotions about your business, brands, and products or services.
Taking responsibility also means not hiding or keeping quiet. Acknowledge your stakeholders' concerns and answer their questions. Be active and visible on all communication platforms in addressing the crisis. However, as you engage the public sphere, you must resist the temptation to get involved in minor dog fights. Identify the critical points of the crisis and address these. Don't lose sight of your key message.
5. Be ready for a backlash
Everyone has an opinion, and people will ensure that others know what they think. The media will be awash with news of how bad your company is, what you should have done, and the possible consequences of your mistakes. When dealing with backlash, it's best to monitor and say sorry. Respond to critical points. Dispel any speculations with facts and accurate information. Be sincere but factual.
Nowadays, a lot of backlash will happen on social media since everyone has access. Monitor the conversations taking place. Prepare for any eventualities that might arise due to the original crisis. Manage what you say and when you say it too.
The initial reaction to a crisis is often severe. Keep in mind things often calm down over time as new stories arise. Don't get complacent, though. You need to monitor how things develop and the stories people are sharing. A strategic approach is generally the best way to ride out a storm.
6. Monitor the situation
Throughout the crisis and even briefly afterward, monitor the situation. Your PR crisis management plan should monitor public perceptions about your company. Effective monitoring helps you stay abreast of the situation.
Monitoring can also mean engaging stakeholders about your proposed next steps. Your solutions have to shine and be amplified so everyone would know that you took the appropriate action.
The aftermath of a crisis can also present minor issues that need your attention. You should conduct regular assessments of your brand after the crisis. Be cautious in your approach.
The data you gather from your monitoring efforts will help you to prevent a similar event from happening. It will also show areas in your PR crisis management plan that need improvement. Evaluate what could have been done differently and make the appropriate changes.
In closing
Even though it's unwelcome, a crisis doesn't have to result in a disaster for your company. The optimal approach will show that your business cares and can overcome adversity. You significantly decrease any potential harm to your brand. That is an opportunity to transform a crisis into a favorable situation where your brand will come out on top.
Your PR crisis management plan needs to be resilient. It should be able to address all the concerns effectively. It also needs to be flexible enough to consider and address any new scenarios. You can identify any weaknesses and address these accordingly through monitoring and evaluation. This way, you always are prepared for the worst.
Author: By Chris Norton, Founder of insight-led PR agency Prohibition, runs Social Media Training, is a former University lecturer, author of "Share This Too" and listed in the UK's top 10 PR and social media bloggers.
Contact Info:
Name: Chris Norton
Email: Send Email
Organization: Prohibition
Website: https://prohibitionpr.co.uk/

Release ID: 89064708