United States - October 3, 2022 /MarketersMEDIA/ —
Silver Spring, MD: Most people do not need to take a zinc supplement, and taking too much zinc, especially over a longer period of time, can be harmful. However, a zinc supplement may be beneficial for those looking to blunt the blow of a nasty cold or experiencing symptoms of a zinc deficiency. 

That said, vegetarians, people with a digestive conditions, or pregnant and lactating women may be at higher risk of a zinc deficiency. Signs of a zinc deficiency may include frequent colds, nausea, poor wound healing, skin rash or ulcers, weight loss, hair loss, sexual dysfunction, or worsening asthma symptoms. 

Dietitian Casey Seiden recommends the top 5 best zinc supplements to boost immune system and to improve bone health. Each nominated zinc supplement are selected based on evidence, and scientific research as Seiden values providing insights on the highest quality of products. 

Consumers looking to improve both their immune and bone health should consume Nurishable's Triple Play that combines zinc 50mg, Vitamin D3 10000iu, and Vitamin C 500mg into all in 1 capsule for major convenience and cost saving, instead of taking 3 different vitamins. 

The Good State Liquid Ionic Zinc Ultra Concentrate was recommended as the best liquid form of zinc for those who do not prefer swallowing pills. One of the advantages of taking zinc as a liquid is that you can customize the dose. For example, it is recommended adults use 10 drops to obtain the full dose of 15 mg of zinc sulfate, and for children over the age of 4 simply use five drops.

For those that are looking to stop a cold, the Nature's Way Zinc Lozenges were recommended by the dietitian. Taking zinc in the form of a slowly-dissolving lozenge within the first 24-48 hours of a cold has been shown to decrease the duration and severity of illness.

As for the best budget zinc supplement, Swanson Zinc Gluconate offers an absorbable form of zinc at an inexpensive price point. Each capsule comes out to cost only a few cents, so it is a great way to add a supplement without spending too much.

Lastly, high intakes of zinc can deplete copper and lead to symptoms of anemia as well as permanent neurological symptoms. So, some supplements such as Jarrow Formulas Zinc Balance provides a dose of copper alongside zinc to help prevent this from happening. 

For more information on zinc supplements for immune and bone health, please visit https://www.amazon.com/Zinc-50mg-Vitamin-10000-500mg/dp/B091CZ5Z51?ref_=ast_sto_dp.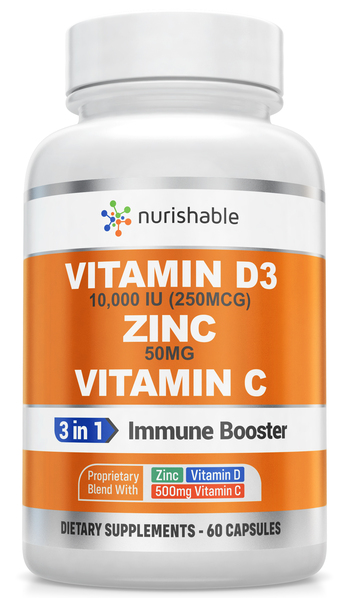 About Us: Nurishable is a natural health supplement company committed to helping individuals and families live a longer, healthier, and happier life. The company makes it their mission to deliver only the highest quality health supplements by sourcing the most nourishing ingredients from all around the world. Their products are scientifically designed to yield optimal results. These formulations are clinically validated and targeted to enhance specific health and wellness needs.
Contact Info:
Name: Terry Johsnon
Email: Send Email
Organization: nurishable
Website: https://www.amazon.com/stores/Nurishables/page/B1A0FA7E-2D47-460B-82DF-4A86F8A1BE28

Release ID: 89082525