United States - November 16, 2022 —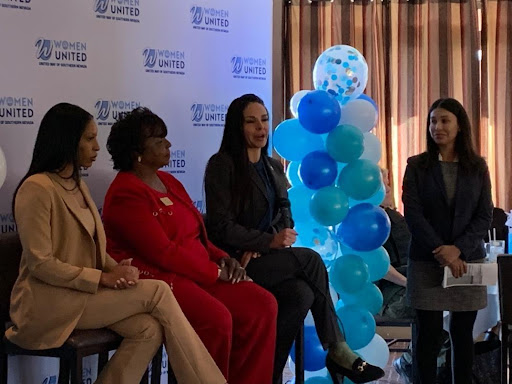 Siena Italian Restaurant hosted the 15th Annual Women United Suit Drive Luncheon on Wednesday to honor members and volunteers of United Way's Women United who dedicate their time and resources to the cause. During the annual event, Women United members rally the community to donate new and gently used women's professional wear to distribute to local agencies with return-to-work programs. The event unites female leaders across Southern Nevada to empower women returning to the workplace by helping them prepare for job interviews, enter the workforce successfully, and achieve financial stability. This year's drive collected a record-breaking 6,995 professional items including suits, dresses, shoes, handbags, and jewelry to support agencies such as: Catholic Charities, Dress for Success, Goodwill, Tech Impact, Jobs for Nevada Graduates, Signs of Hope, and St Jude's Ranch.
During the gathering, attendees learned about the impact their donations have on local women in return-to-work programs. The subject of the day was, "Empowering Women to Impact Global Change." Guest speakers included Deputy Chief Sasha Larkin, Las Vegas Metropolitan Police Department, and Brooke Malone, Director, Investor Services & Engagement, Las Vegas Global Economic Alliance.
Dana Boldizsar, Individual Giving Manager of Women United, was pleasantly surprised by the attendance for the luncheon. "Our original number of attendees was set at 85, but we have so many amazing women who wanted to be a part of this important event, that the number quickly grew to over 120!" said Boldizsar. "It really shows how much all of us enjoy giving the gift of time and donating to support women's workforce development."
Local entrepreneur Antonio Accornero generously donated his restaurant as the setting for the gathering. "As a proud member of the Las Vegas community, I am more than happy to host this luncheon as a 'thank you' to all of the people who contribute their efforts to United Way of Southern Nevada," said Accornero.
Executive Chef Giancarlo Bomparola was on hand to prepare some of his specialty dishes, including Pollo Marsala, Penne with Vegetables, meatballs, and Caesar salad. Also among the offerings was Siena's Buongustaio, as well as a delightful assortment of Italian cookies and pastries. Participants enjoyed the elegant atmosphere of one of Las Vegas's favorite restaurants, and the event was such a success that next year's luncheon is already being planned.
Women United is part of a national network of over 77,000 dedicated women philanthropists who have collectively raised over $1.9 billion in supporting United Way's mission to improve lives and build stronger communities. In Southern Nevada, Women United has raised over $2.8M since their inception, investing the money in projects which are changing lives. Visit uwsn.org/womenunited to learn more.
Antonio Accornero is an entrepreneur, philanthropist, and long-time resident of Las Vegas. Some of the ways he is engaged in his community include: working directly with the Las Vegas Metropolitan Police Department, the District Attorney's office, the United Way of Southern Nevada, and other organizations to address the immediate needs of individuals and the community as a whole; donating his own private funds and holding fundraisers to contribute to the public good; actively participating in political processes and supporting local police in order to improve and protect the quality of life for all Nevadans; and providing scholarships to deserving students to fund their education in various disciplines. For more information about Antonio's philanthropic efforts and how to become involved with the above-mentioned charitable organizations, please visit www.AntonioAccornero.com

Contact Info:
Name: Nicole Boss
Email: Send Email
Organization: Antonio Accornero
Website: https://www.antonioaccornero.com/

Release ID: 89084771