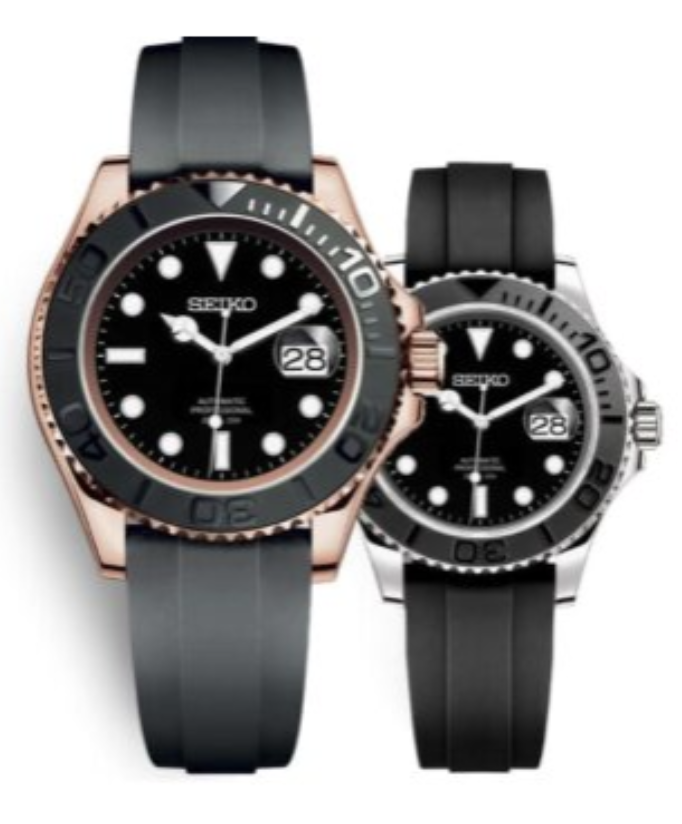 - October 22, 2021 —
The
Seiko Yachtmaster
(YM) is a crowd favourite and consistently one of the most well-loved mods you'll find in the Seiko mods scene. There are endless ways to execute a YM mod but the key ingredient for this is definitely the YM bezel insert. With its 3D-molded look, the YM bezel insert is definitely an eye-catching design and it's not hard to understand why these mods are so sought after.
SeikoMod is a business who provides these custom Seiko wrist watches modification and designs. One of the crowd favorites,
Seiko YachtMaster MOD
, is available to be pre-order currently from the website. There are two current designs available which are the YachtMaster Rose Gold and YachtMaster Gold/Silver. Each YachtMaster comes with the following items: YachtMaster bezel, black dial, sapphire cyclops glass, NH35 movement, stainless steel case 40mm, rubber strap and glidelock clasp.
Both designs are currently being offered at the price of $300.00. One of the unique parameters for this watch movement is the Japanese NH35 movement. This is different from the swiss movement which typically focuses more on being aesthetically designed, whereas Japanese movements are built more with precision and accuracy in mind. Other parameters include the thickness of the case which is 14mm and a strap width of 20mm. The watch structure uses a compact one-piece casing, screwed back cover and barrel.
In addition to that, free international shipping is being offered currently. This will be advantageous for customers abroad from the United States to help save on the extra shipping cost. The company also offers different Seiko Models MOD such as the Submariner Models and RootBeer Models. A wide range of selections for each of the model MOD being offered for pre-order as well.
"Get in touch with us for a more specific design not found currently in the website," said a spokesperson of the business. "A quote can be provided to you for us to help create a special unique watch that is designed specifically for you".
For more information regarding the quotation for a specific watch project, do contact us at
info@seiko-mod.shop.
About Seiko Mod
Seiko Mod is a business which offers customizable Seiko watch models. Currently the business is focusing on offering pre-orders for the three different models which are the Seiko Submariner, Seiko RootBeer and Seiko YachtMaster. There are a wide range of selection of modified designs for the three models being offered currently and international shipping fees are waived. Customized design watches services are also being offered.
Contact Info:
Name: Oscar Williams
Email: Send Email
Organization: SeikoMOD Shop
Website: https://seiko-mod.shop/

Release ID: 89050114