United States - May 24, 2023 —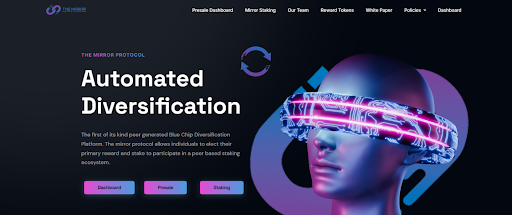 Diversification is the key to smart crypto investing. Pinpointing the most lucrative opportunities and building a varied portfolio is a necessary process that can be both time-consuming and overwhelming to even some of the most seasoned crypto investors.
Enter, The Mirror Protocol – a first-of-its-kind platform built to provide its members the benefits of automated diversification. Powered by Block Busters Tech, this revolutionary platform was designed to enable crypto fans and investors to obtain and stake a single MP token to reap the rewards of all protocol transactions stemming from the other tokens existing within The Mirror Protocol micro and macro ecosystems. 
As pioneers of the "mirror staking" concept, The Mirror Protocol strives to empower its budding community, achieve scalable growth, and ensure steady progress is made toward each of its projects. 
The Mirror Protocol currently supports seven mirror tokens, including the Bitcoin Mirror, Ethereum Coin Mirror, Binance Coin Mirror, Ada Token Mirror, MATIC Mirror, Link Mirror, and XRP Mirror. 
Individuals joining The Mirror Protocol choose and stake their primary mirror token and reap rewards based on its performance. What separates this platform from contemporary alternatives is that staking the primary token rewards users in all tokens. This way, successful staking ventures are "mirrored" onto other tokens, and the success is shared among the members of this thriving community.  
To ensure its members are up-to-date with the latest developments within The Mirror Protocol's ecosystem, MP has launched a first-of-its-kind self-hosted Token dashboard – a real-time ecosystem visualization tool tracking all price and transaction volume changes. The chart is updated daily, providing all members of The Mirror Protocol platform concise and accurate information about the protocol's tokens and their behavior within the ecosystem. 
With new mirror tokens entering The Mirror Protocol, the members will now have an opportunity to learn everything about these novel investment opportunities through the staking Dashboard and add desired tokens to their wallets while the prices are at their lowest. 
The Dashboard function contains valuable information regarding the projected launch prices, empowering investors to make educated investing decisions while joining this rapidly-growing blue chip diversification platform. 
With low, flat transaction fees, a barrage of mirror staking opportunities, a dozen reward tokens to choose from, and the freshly launched token dashboard, The Mirror Protocol is poised to disrupt the blockchain industry. 
Committed to setting new standards for investors seeking multi-faceted rewards and the advantages of automated diversification, The Mirror Protocol keeps evolving and bringing its members new benefits. 
More information about The Mirror Protocol is available on the company's official website.

Contact Info:
Name: Don Bailey
Email: Send Email
Organization: Block Busters Tech, Inc.
Address: United States
Website: https://themirrorprotocol.com

Release ID: 89098115