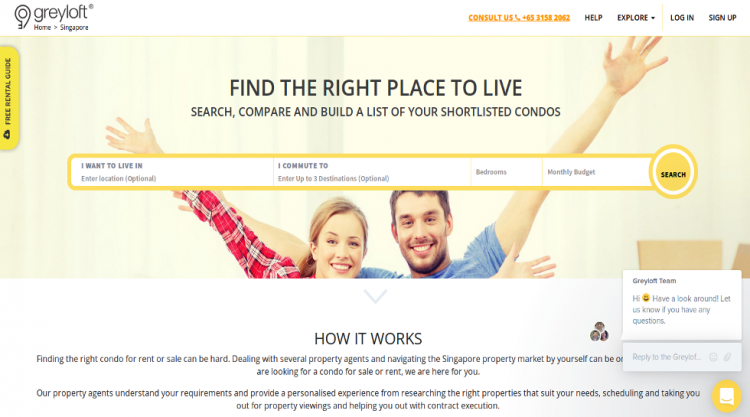 - October 6, 2016 —
When it comes to buying or renting a home, the process can be quite a hassle. Witnessing this, a Singaporean-based real estate startup, Greyloft seeks to bring the experience of house hunting online. In its most recent fundraising round, it secured an amount of US$1.1 million with the round led by DSG Consumer Partners and Wavemaker Partners.
Aiming to bring the whole realty journey online, Greyloft is a licensed real estate agency experimenting with the uses of technology to achieve the facilitation of house rental processes online. In other words, Greyloft aims to become a one-stop platform for users to make a smarter decision on deciding where to live.
Founded in September 2016, the story behind the company started when the founders, Mr. Narayanan and Mr. Agarwal experienced the troublesome house-hunting processes themselves when they came to Singapore to pursue their studies in the National University of Singapore.
Henceforth, the startup embodies their goals to bring transparency and simplification to the process as well as working towards the common goal of being "Asia's preferred brokerage". To accomplish this, the startup is working on a combination of software tools with its own in-house real estate agents who aid home seekers with paperwork, moving in and support after the customer moves into the new property.
Instead of going to multiple agents when you want to purchase or rent a house, Greyloft provides customers with as much information about the properties in their interested location sufficient enough to facilitate decision-making.
"A lot of the data that our customers need is already out there. However, it's hard to make sense of it all, and they tend to refer to unreliable sources for information. We are building a team of data scientists and researchers to develop technology that will help cut through this clutter and present them with relevant information and data," says Archit Agarwal, Greyloft co-founder
The startup also plans to extend it reaches from rentals to property sales. Greyloft will put funding toward product development, build data-driven online research tools for customers and tools that make the offline segment of real estate businesses easier for both the users and the agent. The funding will also be intended for recruitment purposes, building up its product team and agent staff as well as to boost the brand through various marketing efforts.
The company monetizes by charging a commission on successful transactions. Siddhesh doesn't provide specific numbers but tells Tech in Asia that Greyloft's revenue has grown 18 percent month-on-month since January 2016.
For more information, please visit https://www.greyloft.com/
Contact Info:

Name: Vivian

Organization: Unicorn Media
Release ID: 136504