United States - April 8, 2023 —
Dextego announces the launch of its latest AI coach to assist individuals in unlocking their inner genius and achieving their full potential by developing essential power skills. These transferable abilities are critical for success in any career or venture, and Dextego's AI coach makes them more accessible than ever. The AI coach provides personalized training and guidance to help individuals improve their power skills and reach their goals.
Dextego, an ed-tech company, aims to democratize access to power skills development and create a community of next-gen leaders with the skills needed to thrive in the 21st century. With the help of Dextego's AI coach, learners can develop their power skills, receive feedback from peers and coaches, and engage with a community of next-gen leaders. The company's vision is to create the future of education by democratizing access to power skill development.
Artificial Intelligence (AI) has become increasingly popular in education and businesses.
AI is a powerful tool to help humans amplify their skills and propel growth. Ultimately, leveraging AI for developing power skills is beneficial in terms of efficiency and cost savings – making it an invaluable tool for businesses and individuals who want to stay ahead in today's ever-evolving world.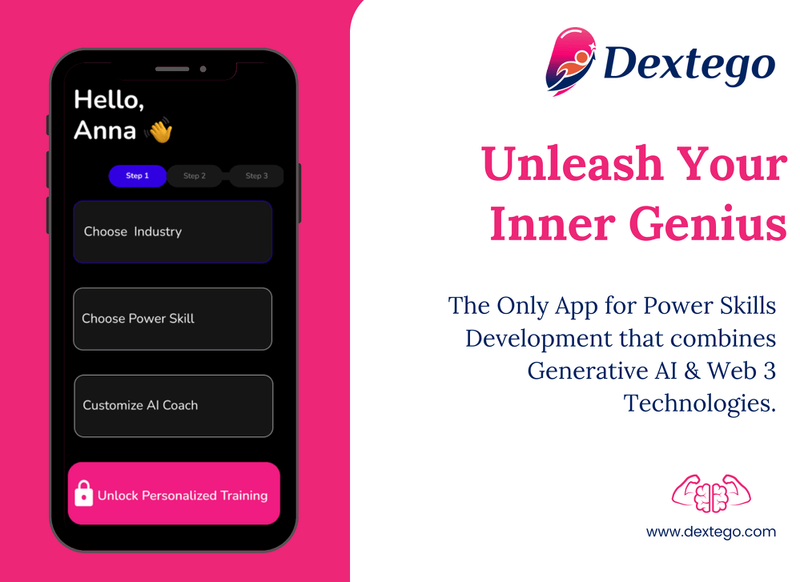 Today's world is increasingly competitive, and power skills are becoming essential for success. The Co-Founders, Ioanna Mantzouridou Onasi and Sean Vazquez, have created a taxonomy of power skills that are particularly relevant to the demands of 21st-century work environments. Their taxonomy includes Deep Collaboration, Stress Management, Structured Communication, and Persuasion and Influence. Each of these areas has its unique challenges, but they all have the potential to help individuals stand out from the competition and achieve success at work. 
AI in power skills development can provide accurate feedback on performance in real-time, enabling users to identify areas of strength and weaknesses that need improvement quickly. Using AI can also help reduce costs associated with traditional training methods, such as hiring a coach or attending workshops. AI-powered applications offer subscription services at much lower rates than what would otherwise be charged by a professional coach or trainer – giving people access to high-quality coaching without breaking the bank.
Dextego's personalized AI Coach challenges, inspires, and answers questions via video and chat. In addition, the users, named "Dexters," can interact with peers through interactive games to unlock tokens that give them access to expert mentorship. Experts can guide achieving success through developing power skills. They can offer advice on how best to tackle specific problems and ultimately provide an invaluable source of support for unlocking the user's inner genius.
The most effective use of generative AI lies in human-AI collaboration rather than reliance solely on machines or humans alone. When combined with human insight and creativity, AI gives us greater access to knowledge and helps us make more informed decisions faster than ever. This makes it an invaluable tool for developing new skills and reaching our full professional and personal potential.
Dextego aims to build a community of next-gen leaders well-equipped with the power skills needed to thrive in the 21st century. Dextego's commitment to transforming the future of power skill development is evident in its use of cutting-edge technology. This innovative approach to coaching empowers learners to take control of their personal and professional development, enabling them to reach their full potential. The company's innovative approach to coaching is creating a new standard for the ed-tech industry and the future of work.
In conclusion, Dextego is transforming the future of power skill development by providing learners with their own AI Coach(es) for personalized and accelerated power skills development while joining a social network of lifelong learners. With Dextego, learners can unlock their inner genius and become high achievers by developing their power skills.

Contact Info:
Name: Ioanna Mantzouridou-Onasi
Email: Send Email
Organization: Dextego
Address: United States
Website: https://dextego.com/

Release ID: 89093298