United States - January 23, 2023 —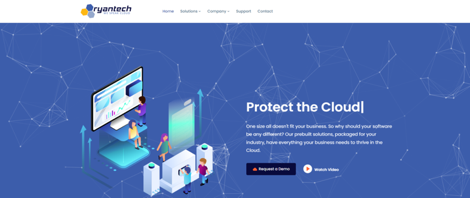 Even though a small number of businesses still use physical data storage solutions, the majority of firms, entrepreneurs, and other entities live in the Cloud. As more and more companies discover the benefits that Cloud brings to the table, people are searching for ways to efficiently migrate to Cloud without breaking the ban, and RyanTech is there to answer the call.
RyanTech is a Cloud solution provider offering a broad spectrum of products. From "Microsoft 365 and Azure computing to proprietary cybersecurity apps and services, Azure consulting, and RyanCare tech support, the company's catalog of services is vast and eclectic.
This company specializes in all things Cloud-related, especially helping its clients migrate to Cloud from physical storage or other online platforms.
As imparted by the company's Cloud Sales Manager, Katie Pettey, relocating data storing and management to the Cloud offers innumerable advantages to any business, regardless of size, type, and aspirations. Such a decision would bring costs down to a minimum while reducing cost management, granting omnipresent access to data & Cloud-stored apps, providing increased scalability, and promoting improved collaboration.
Katie imparted that the process of migration to MS Cloud needs to be built upon the pillars of communication and transparency. Certain processes can be extremely convoluted, but if a trained, experienced professional is helming the operation, predictable results are to be expected, stating:
"Communication and planning are extremely important when doing a Cloud migration. The professional assigned to do the migration needs to ensure that there is an open line of communication and transparency between the people involved in the migration process, including all in the migration team and the end users. Everyone needs to know what to expect within the process and what the plan is to get it done, including things like timeline for completion, any downtime expected, migration cutover, etc.," said Katie.   
As a full-service provider of Cloud solutions, RyanTech covers all the bases; from setting up a comprehensive Cloud migration strategy and deploying a team of professionally trained experts overseeing its execution to ensuring all possible problems are timely noticed and tackled, this company leaves nothing to chance when helping its clients relocate their business operations to the Cloud.
Cloud protection is one of the critical benefits most business entities look for in terms of Cloud and email migration. Sensitive data leaks can ruin any company or brand, and to ensure the privacy, safety, and integrity of all data pieces remain intact, RyanTech extends its advanced technologies, but more importantly, the expertise of its team:
"The migration team is very important in the process, as they will be the ones setting the timelines and goals based on what has been communicated to them by the end user. It is never smart to rush a migration, as this can lead to inevitable problems," Katie said. 
More information about RyanTech is available on the company's official website.

Contact Info:
Name: April Rain
Email: Send Email
Organization: RyanTech
Address: United States
Website: https://www.ryantechinc.com/

Release ID: 89088719