Kuala Lumpur Malaysia - October 27, 2017 /PRWIRE.asia/ —
Launched at the end of September, Malaysian entrepreneur Marcus Teoh's first book "Now or Never" hits No. 1 weekly bestseller in MPH bookstores across the country. Since its availability in stores, "Now or Never" quickly gained popularity and shares the leaderboard with other bestselling books like "Jack Ma" by Kanyin, "Elon Musk" by Ashlee Vance and "Blue Ocean Shift" by Renée Mauborgne and W. Chan Kim.
Despite not spending a cent, Marcus has again proven that Entrepreneurs can market their products via Facebook with zero budget. Practising his own methodology, his marketing went so well that the book ran out of stock in the two largest outlets of MPH Bookstore after less than a month of its publication. "Now or Never" has won readers over with its realistic descriptions on actual business scenarios as well as the proven, purpose-designed business strategies that can be duplicated onto one's business. In the true spirit of entrepreneurship, Marcus also discussed his own failures and setbacks on the route to becoming an inspiring speaker and business consultant.
Marcus started writing the book when he was facing one of the hardest periods of his life. Business wasn't good and his relationship had failed. Despite being down emotionally and financially, he decided to do something "big". He advised those who are facing major life challenges to look inside and work on oneself.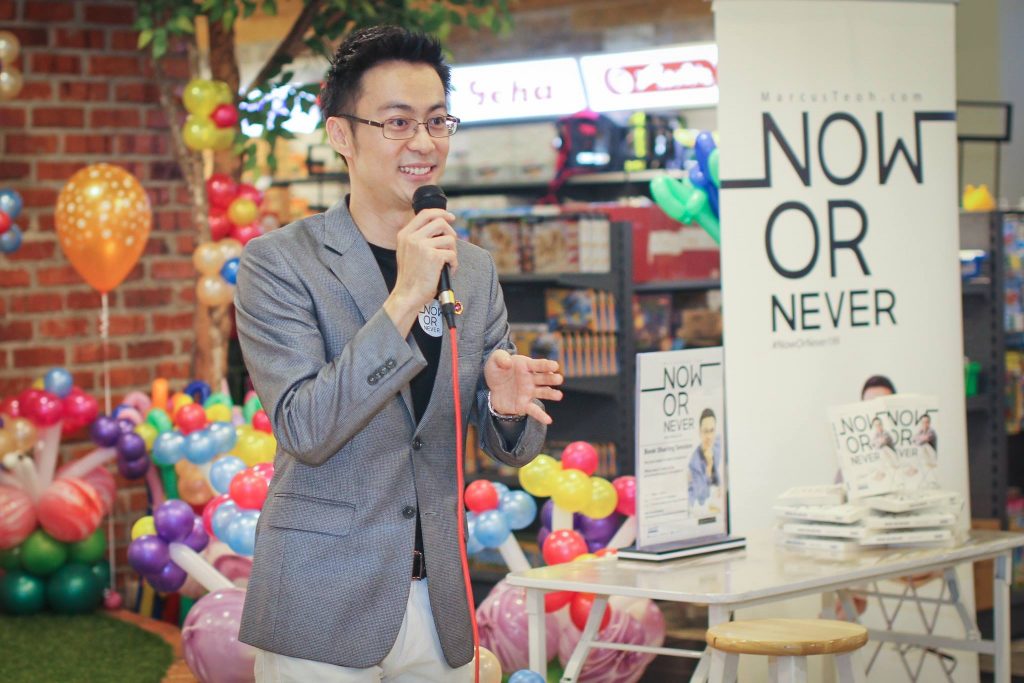 Entrepreneur and professional trainer Marcus Teoh sharing his entrepreneur journey to fans who came to the book signing event last week.
"Avoid buying expensive stuff that you believe will help you. You MUST believe that you have the power in your mind, your heart, and your hands! Believe and achieve! Dreams become reality when you say to yourself "I MUST"! One year ago, I decided to do something that will make myself, my family, and my friends proud. Today I am very happy and proud to share this very beautiful milestone with everyone." said Marcus.
Bestselling book "Now or Never" by Marcus Teoh is available in the following locations:The Book Garden by Sinaran @ Atria Shopping Gallery, Kinokuniya Kuala Lumpur, Kinokuniya Singapore, and nationwide outlets of MPH Bookstore, Times and Borders. Or get it online at www.marcusteoh.com
"When I read it, I cried. Most of the thing Marcus wrote are exactly the truth about being an entrepreneur." - Vera Joan Dingle, Landscape Consultant
"It's an excellent book for entrepreneurs who don't know how to proceed. You can't go wrong if you follow the basic steps. It has inspired me for many years now. I even bought one for my daughter, and I hope it will inspire her as she gets older." - Adi Affendi, TV Host.
For readers who would like to meet Marcus in person, he will be hosting a book sharing session on 25th November 2017 from 3pm to 4pm, at MPH Bookstore Mid Valley.
About Marcus Teoh: Marcus Teoh hails from Malaysia. Entrepreneurship was his passion, and after transforming multiple business ideas into fully-fledged businesses, he realized his true calling was in teaching. Today, he speaks to, consults, and trains aspiring Entrepreneurs and Start-Ups, as well as gives Motivational Talks, Facebook Marketing Training, and sharing practical takeaways from his own experience and lessons. Marcus is engaged by property companies, direct sale companies and SME business owners to help them attract business via Zero Budget Facebook Marketing (#ZBFM). The class has since attracted more than 1,000 passionate entrepreneurs. For more information please visit: marcusteoh.com/fbmarketing
Source URL: https://www.prwire.asia/now-or-never-by-marcus-teoh-hits-1-bestseller-in-mph-bookstore/
Release ID: 256760