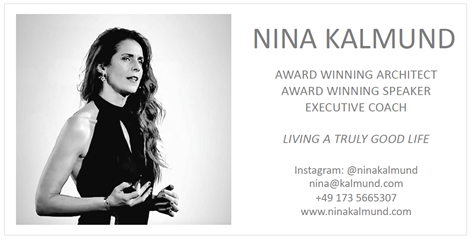 - November 18, 2020 /MM-prReach/ —
Nina Kalmund, a multi-award-winning architect, has been appointed Honorary President of the Germany-India Business Council, which is part of the Women's Indian Chamber of Commerce and Industry (WICCI), the first independent national business chamber for women in India. For her endeavors in uplifting and empowering women, Kalmund also recently won the award Iconic Woman – creating a better World for All by the Women Economic Forum (WEF).
Learn more about Nina Kalmund at https://www.instagram.com/ninakalmund.
Supported by the ALL Ladies League (ALL) and the WEF, the WICCI aims to bring about fundamental changes in governmental policies, laws and incentives with a critical focus on encouraging and empowering women-owned businesses across all sectors to compete in the business world.
Women face monumental challenges in accessing funding and are confronted with glass ceilings in senior management roles and board positions. WICCI and its councils suggest concrete steps and recommendations to relevant government authorities to help mitigate the many roadblocks women in business face.
In her newly appointed honorary role, Kalmund will work with relevant government bodies and institutions to advocate and enable policy changes, incentives and other structural amendments to support the development of women's influence and impact.
"I am humbled to accept the position. I am very honored to lead the council besides my busy schedule, as this is a very important cause. There are so many incredibly talented women who still do not operate at their full potential. I am passionate in wanting to do my part to ensure that the world profits from the well of knowledge, talent and expertise that women bring to the business world, " Kalmund said.
Kalmund is a visionary and uses her forward-thinking business approach and her unique understanding of strategy to empower her clients — no matter the industry — to drive innovation, profit and positioning.
She is one of the few who understand the importance of profitability and specializes in increasing any project's value through cutting-edge design and disruptive thinking. Kalmund is also one of the world's few highly-elite Certified High Performance Coaches, regularly getting together with the world's most successful thought leaders and business wizards to ensure that she stays at the top of her game.
A sought-after award-winning international speaker, she has spoken on three continents, sharing the stage with Stedman Graham, Jay Abraham, Hugh Hilton, Steve Wozniak, Michael Douglas and Dr. Phil. Kalmund has also been invited to share her expertise on how today's most dynamic female leaders navigate the pathways to the top alongside Moira Forbes, Executive Vice-President of Forbes Media and publisher of ForbesWoman.
Kalmund strongly believes that successful people have a duty to give back. Therefore, she co-created the not-for-profit conference platform, Street Philosophy, enabling value-driven discussions around today's most pressing topics like ethics and education.
To learn more about Nina Kalmund and her philanthropic and business projects, please visit her Instagram profile.
###
Instagram: https://www.instagram.com/ninakalmund
About Us: Nina Kalmund is an award-winning architect and speaker and a Certified High Performance Coach™ who inspires women around the world to live A Truly Good Life.
Contact Info:
Name: Nina Kalmund
Email: Send Email
Organization: Nina Kalmund
Address: , Germany
Phone: 49 173 5665307
Website: https://www.instagram.com/ninakalmund/

Source URL: https://prreach.com/?p=43079
Release ID: 88986102