Dubai, UAE - February 28, 2023 —
MySeven Platform, a visionary act-to-earn platform, is thrilled to announce moving to the closed beta testing for their application. MySeven has started its testing phase with 6 leading influencers and selected community members who will provide much valued feedback to refine the product offering. MySeven is concurrently launching a tokenized sale of the company on ShiftDAO, an innovative investment platform that allows users to enter with an investment size as small as 100 USD.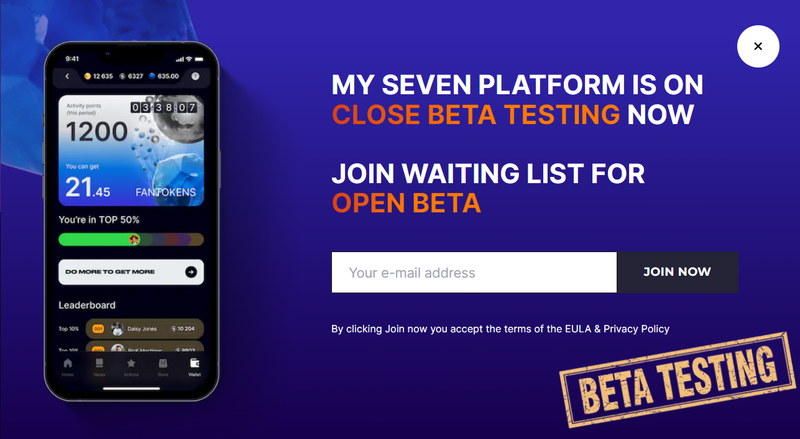 Readers may find details on given: https://www.myseven.io/
MySeven CEO Ibrahim H. said, "How you grow your business is more important than the numbers. We want to ensure that our users and community grow with us and are a part of our journey from the start. Users have long been neglected by large corporations that exclude them from the economic value chain of social media. We find this unfair and focus on improving users' experience through our MySeven ecosystem!" He added, "MySeven is all about making the social media industry more inclusive, interactive and rewarding for the users! It's time to change the status quo to focus on everyday users like you and me!"
About My Seven:-
MySeven project is one of the first pioneers, centering its mission around user benefits. MySeven platform is changing how followers and influencers interact, creating new economic opportunities for both parties while making their bond more personal than ever before.
The project is run by a large international team from various professional disciplines and is poised to impact its public launch later this year.
There are 7 pillars that MySeven is building upon this next incoming social media revolution:
1.     Giving rather than taking from users!
2.     Enabling users' to monetize their talent into recurring revenues
3.     Rewarding users for real engagement on the platform
4.     Making talent monetization available for everyone
5.     Powering circular sharing economy with new evolved NFTs
6.     Aligning interests of all stakeholders with unique token economics with fair distribution 
7.     Creating enormous social impact by introducing new economic flows in emerging economies
Numerous influencers with hundreds of millions of followers have joined the MySeven model! Influencers and brands can easily onboard themselves onto the ecosystem and are at the forefront of the planned revolution. 
About ShiftDAO:-
ShiftDAO has emerged as a decentralized platform that strives to help investors gain exposure to verified and vetted projects. The platform supports disruptive projects with the potential to bring real positive change to industries and the world. Investments through the platform are made safe by utilizing blockchain smart contracts for transactions and proposal voting systems.
ShiftDAO.io is also committed to transparency and decentralized governance for investors, ensuring that each campaign gives them the right to govern themselves and their investments. The platform strives to promote, identify and incubate projects and organizations with cutting-edge innovative technologies. 
MySeven project founder commented, "We're thrilled to collaborate with ShiftDAO and leverage their expertise and community to grow our platform and provide more value to our users. Together, we can push the boundaries of what's possible in the tokenization space and create more decentralized and innovative social interactions." 
News Source: Pinion Partners
Contact Info:
Name: Team Pinion
Email: Send Email
Organization: Pinion Partners
Website: http://pinionpartners.co

Release ID: 89090945