Berlin, Germany - May 26, 2023 —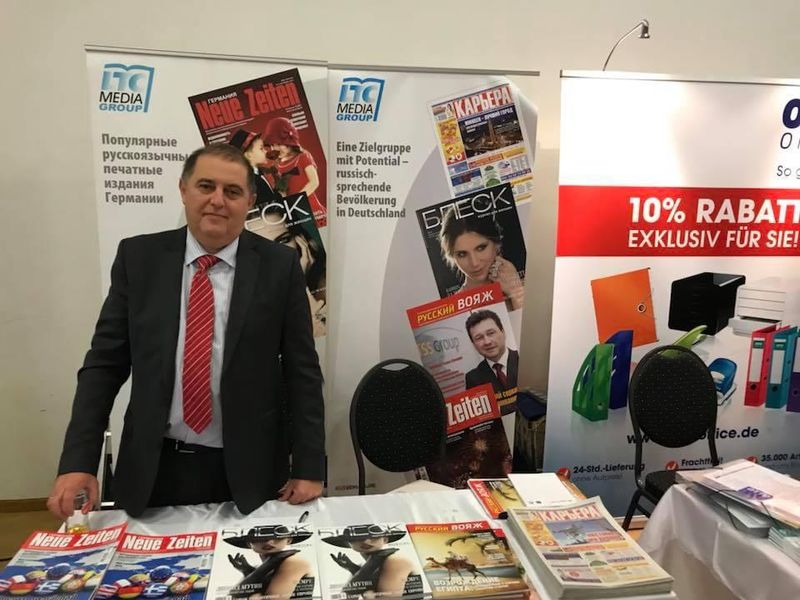 LTC Media Verlag Group: Phenomenal Results for Russian Speakers in Germany. Russian-speaking communities in Germany are thriving, and LTC Media Verlag Group has been delivering exceptional media services to these communities since 2002. Don't miss out on reaching this growing audience! And what is the media company serving these Russian speakers so exceptionally since 2002? LTC Media Verlag Group.

The current estimates are that between four to six million Russian speakers live in Germany. Most of these Russian speakers fall into one of the following categories:
Ethnic Russians
Immigrants from the other fourteen former Soviet Republics
Jewish immigrants from the former Soviet Union
Descendants of ethnic Germans who migrated to Russia
Blue EU cardholders and other working immigrants
Students who study the Russian language
Temporary residents such as exhibition visitors, business travelers, and tourists

Russian-speaking Germans are a very robust segment of the population. An unbelievably valuable human commodity for companies that have products and services to offer. And where do these Russian speakers turn to for entertainment and media content? LTC Media Group.

Brand Loyalty

Brand loyalty in media is difficult to achieve in these wild, modern times. There is tremendous competition. Trust in media is decreasing worldwide, though Germans tend to trust their media more than most other countries. New platforms such as the internet and social media have barged into the crowded marketplace of ideas and wreaked havoc on the old guard. But through it all, LTC Media Group has continued to grow its audience and reinforce the loyalty of its listeners, viewers, and readers with expertly targeted content.  

Through print, video, and the internet, LTC Media Group has a hand on the pulse of the many Russian speakers in Germany. The content they produce takes into account and incorporates the historical attitudes of the target audience. The content also reflects their mentality, values, and background. Successful media doesn't try to convert an audience into something they're not. It reflects what the audience already is; perhaps even what members of that audience aspire to become. But never forgetting the context that such a transformation would be part of.   

Content is only part of the media equation. How content is marketed and the way the message is communicated makes all the difference. By using a marketing strategy described by some as "ethno-marketing", LTC Media Group has frustrated the competition by garnering the fierce loyalty of its intended audience. And this faithful audience can't seem to get enough of what LTC Media Group is offering.

This particular audience is giving LTC Media Verlag Group an above-average reach. The average Russian-speaking family in Germany consists of four to five members. And they all read and watch LTC Media Group platforms regularly. LTC Media Group offers five major platforms: three publications, a YouTube video channel, and an all-encompassing internet portal.  

Media
Russki Voyage (Russian Voyage) https://issuu.com/rusverlag/docs/voyage_2023_01_71_

Russki Voyage is a specialized travel and tourism magazine published bimonthly throughout Germany. With a circulation of over 1,000 travel and tourism-related agencies and other businesses servicing the Russian-speaking population in Germany, the content is specifically geared toward the owners and employees of these companies, providing beneficial and valuable information for them. And readers enjoy it for free!

Russki Voyage provides the best information on the latest trends in the travel industry and helps readers stay in the know on every subject they need to know about. Everyone from airline professionals to travel experts in small boutique offices is kept up to date with extremely informative and useful articles. Readers also benefit from expert guidance concerning industry skills and specialized knowledge necessary for top-level job performance. It is no surprise that every Russian-speaking travel professional in Germany reads this magazine religiously!  

Karriere (Career) https://issuu.com/rusverlag/docs/karriera_2023_03_205_

The power hitter in the LTC Media Group lineup is Karriere. Karriere is published every month and has a whopping circulation of 100,000 copies. Including businesses and households, it has a total readership of 300,000. The retail price per copy is 1.30 euros. Karriere focuses its content on the German job market. Readers can find pertinent reports on policy and the economy that are very in-depth and thoroughly written. Readers are kept up to date on current vacancies in the job market and given valuable advice and tips on job hunting and landing that dream job. This publication is a must-read for Russian-speaking Germans who want to achieve more.  

Neue Zeiten (New Times) https://issuu.com/rusverlag/docs/nz_261

Neue Zeiten is a Russian-language magazine that is one of Germany's most popular media outlets. It is published monthly and has a vibrant circulation of 20,000, with an overall readership of 60,000, mainly businesses and households. The retail cost of the magazine is 5.50 euros, with an annual subscription rate of 59.00 euros. This publication has a high level of credibility as a media outlet.  

This versatile publication covers many different topics that are important to its readers. Subjects vary from important world events to everyday life. Other topics include:
Politics

Economic Issues
Society
Technology
Sports 
Entertainment 
Culture
Health
Lifestyle

Readers rely on the content provided by Neue Zeiten every month. Over the years the magazine has developed into a reliable and trusted source of important and relevant information. 

Neue Zeiten TV https://www.youtube.com/channel/UCAmWlrVisdMnWxbDF7zHoLQ

This rapidly growing and popular YouTube video channel gets its story ideas from the publication of the same name. This video version of the popular magazine offers a deeper and more nuanced look at the important stories that Russian-speaking Germans want to know more about.  

Neue Zeiten TV : Engaging Anchors, Expert Insights, and Compelling Content for Russian Speakers in Germany. With talented and experienced anchors, this channel presents news and information in a professional yet entertaining manner, offering unique perspectives. Legal experts simplify the German legal system, answering viewer questions, while discussions on current events and captivating historical narratives keep audiences hooked.


RusVerlag.de (Russian Publisher.de) http://www.rusverlag.de

If magazines and video channels weren't enough, along comes the giant internet portal RusVerlag.de to keep Russian speakers in Germany well-informed and up-to-date on what they want and need to know. This portal is the flagship operation of LTC Media Verlag Group and offers access to all their online media in one place. Unlike many other media entities, LTC Media Group figured out early how to incorporate the new digital world with the old print world. Founder Alexander Cherkasky has done an amazing job with his creation and continues to do so after 21 successful years in German media. This German success story continues to grow bigger and bigger with each passing year, gaining viewers, readers, and advertisers daily.  

In fact, advertisers are thriving. There are numerous options for any business wanting to present products and services to the LTC Media Verlag Group audience. In addition to the wonderful magazines they publish, and the superb video channel, LTC Media Group offers access to their phenomenal email marketing, digital marketing, and social media marketing resources on this site. For more details on how advertising with LTC Media Verlag Group can grow your brand, or if you have any questions, call +49 69 7593 6973.
Contact Info:
Name: Samantha T
Email: Send Email
Organization: LTC Media Group
Website: https://rusverlag.de/

Release ID: 89098546