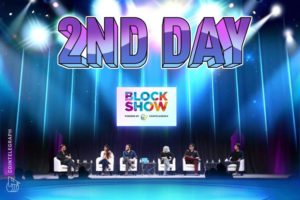 - August 30, 2018 / / —
Miglio took the stage the second day of the conference to deliver his presentation, Crypto Regulations in the US – Back to 1932. He was joined by fellow presenter Leslie Katz, Shareholder at Greenburg Traurig LLP, an international law firm with its home office in Miami.
"It was a great honor to speak at a conference known for its dedication to discovering the latest industry innovations and trends," Mike Moglio said.
Featured on the Second Stage, the presentation brought top industry leaders, experts and companies together to showcase ideas and conflicting opinions while challenging each other. This included the BlockShow Oscar, project pitches, mind battles and art auctions.
BlockShow holds annual conferences in the Americas, Europe and Asia. Recognized as one of the largest blockchain and technology roadshows, the conference is recognized as a flagship event for blockchain and cryptocurrency leaders to converge and share ideas and insight. The BlockShow Americas 2018 conference boasted over 80 industry expert speakers, 1,500 attendees, 200 journalists and 50 represented countries.
Mike Miglio is an international law expert that specializes in cryptocurrency securities analysis. Having worked with Fortune 500 companies such as Google, Honda Motor Company, and Microsoft Corporation, Miglio is familiar with U.S. securities laws as they pertain to foreign entities, and is comfortable juggling the laws and requirements of multiple jurisdictions simultaneously. This year, Mike helped found ICO Law Group–a law firm focused on securities law compliance for both foreign and domestic ICOs and Exchanges–where he also acts as a managing partner.
ICO Law Group leverages their cryptocurrency and securities law knowledge to help ICO's thrive in domestic and foreign markets. The ICO Law Group offers a variety of services including specialized white paper and press releases, legal advising and document creation, overall risk assessment, solving ICO tax issues and litigation.
Company Name: ICO Law Group
Contact Name: Michael Miglio
City: Houston
State: TX
Country: United States
Phone: (832) 539-8586
Email: contact@icolawgroup.com
Website URL: https://icolawgroup.com/
Contact Info:
Email: Send Email

Release ID: 400276