Singapore - August 23, 2022 —
Ideaverse Games Studio has embraced DAO and announced the launch of its first NFT membership to improve gaming experiences for users.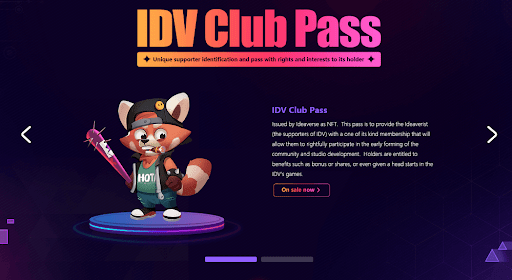 Ideaverse Games Studio, the developer of Horde of the Apocalypse and Fortune Heroes, announced the launch of its first NFT membership initiatives catered to improving the gaming experience for users. 
Ideaverse Games Studio is a community-member-owned studio that thrives on decentralization. By embracing DAO, IDV is set on developing top-edge blockchain games that are fun for everyone. This decentralized system directs the development of games, creating user-oriented products and driving growth within the studio.
"We have 60+ professionals in fields of digital games and blockchain technology, aiming to develop top-edge blockchain-empowered games."
To see to this, IDV's vision is to adopt the 'Play Beyond Fun' philosophy and integrate it with blockchain applications. This way, an Ideaverist can manage their crypto assets and enjoy a unique, sustainable, and ever-improving gaming experience simultaneously in the safest manner possible.
The launch of the IDV Club Pass that will be issued as an NFT will grant every Ideaverist a unique membership. This membership affords them various benefits, like the right to participate in the community and studio development. Holders will also get bonuses, shares, and a head start in the IDV games.
Ideaverse Games Studio explains that DV Club Pass holders will be the exclusive recipients of the first batch of Genesius NFT airdrops. Early adopters also get access to open beta versions and in-game privileges like special effects on their avatar frame and name tag. The benefits also include a VIP pack of all games preexisting and under development.
The roadmap starts with Horde of the Apocalypse, a blockchain-integrated game that combines simulation and real-time gaming. It also uses a Play2Earn system and NFT elements. On the other hand, Fortune Heroes will introduce monopoly-style ADV that will bring 2-4 players on an adventurous journey, complete with NFTs, a variety of game modes, and more. Ideaverse Games Studio has also planned an Apocalypse Run management simulation game, Fortune Heroes Hold'em Poker, and Fantasy Land, a construction and management simulation. Fantasy Land will be based on the Metora Planet Metaverse Land and will include NFT elements, practical use land, resources, and architecture in other Fortune Heroes series.
Holders of the IDV Club Pass will also get access to para-crypto that allows for IDV's game NFT and tokens airdrop. Users will also get first priority to enroll in the Metora metaverse and IDO & NFT from other studios invested by Metora. Ideaverist has a whitelist opportunity for future IDV games, NFT, and tokens.
The community-based gaming organization gives member benefits, including first-hand announcements of all drops and upcoming projects, priority support, early access to games, and sneak peeks into upcoming projects. Holders will also have exclusive access to IDV online and offline events and receive studio and game merchandise giveaways.
Keep up with news and updates on the NFT drop, game development, and more from Ideaverse Games Studio by joining the community social channels, Twitter, Discord, and more.

Contact Info:
Name: Orson Wong
Email: Send Email
Organization: Ideaverse Games Studio
Address: Singapore
Website: http://ideaverse.games/

Release ID: 89080128