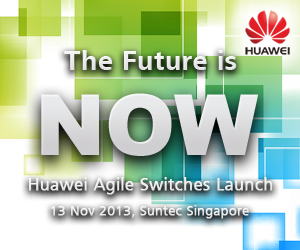 Singapore - November 11, 2013 /MarketersMEDIA/ —
Huawei, a leading ICT solutions company, will be launching its next generation network with the theme "The Future is Now". The event will be held on 13 November 2013 in Singapore.
In this event, Huawei will launch the industry's first agile network technology and Agile Switches namely S12700 series. According to Huawei South Pacific, the S12700 series features:
1. Agile Services: The world's first flexible service-oriented network.
2. Agile Management: The world's first network to perceive IP network quality.
3. Agile Evolution: The world's first SDN-based campus network.
This innovative technology is in line with the revolutions now unfolding in the industry: Cloud Computing, Bring Your Own Device (BYOD), Software-defined Networking (SDN), the Internet of Things (IoT), and Big Data analytics for enterprise.
In the invitation letter from David Wei, President of Huawei South Pacific Region said: "We would be thrilled to share our network optimization program with you and your team. Our network optimization program remediates current network shortfalls and prepares it for future requirements to meet the evolving business needs in the next decade".
Huawei S12700 series Agile Switches are designed for next-generation campus networks, using a fully programmable switching architecture, the S12700 series allows fast, flexible function customization and supports a smooth evolution to Software-Defined Networking (SDN).
The S12700 series runs the Huawei Versatile Routing Platform (VRP), which provides high-performance L2/L3 switching services and rich network services, such as Multi-protocol Label Switching (MPLS) VPN, hardware IPv6, desktop cloud, and video conferencing.
In addition, the S12700 series offers a variety of reliability technologies, including in service software upgrade, non-stop forwarding, Cluster Switch System 2(CSS2), a switch fabric hardware clustering system that allows 1+N backup of Main Processing Units (MPUs), hardware Eth-OAM/BFD, and ring network protection. These technologies help improve productivity and maximize network operation time, reducing Total Cost of Ownership (TCO).
S12700 can be applied effectively in Enterprise Network, College Campus Network, Bearer network for video conferencing, desktop cloud, and video surveillance applications, Metropolitan Area Network, and enterprise data centre.
About Huawei:
Huawei is a leading global ICT solutions provider. Through Huawei dedication to customer-centric innovation and strong partnerships, they have established end-to-end capabilities and strengths across the carrier networks, enterprise, consumer, and cloud computing fields. Huawei is committed to creating maximum value for telecom carriers, enterprises and consumers by providing competitive ICT solutions and services. Huawei's products and solutions have been deployed in over 140 countries, serving more than one third of the world's population.
Like Huawei on Facebook:
http://www.facebook.com/HuaweiAsia
.
Follow Huawei on Twitter:
https://twitter.com/huaweiasia
YouTube:
http://www.youtube.com/user/HuaweiAsia
Contact Info:
Name: Louise Yeong
Email: Send Email
Organization: Huawei Singapore
Website: http://www.huawei.com

Release ID: 25731