United States - September 23, 2022 —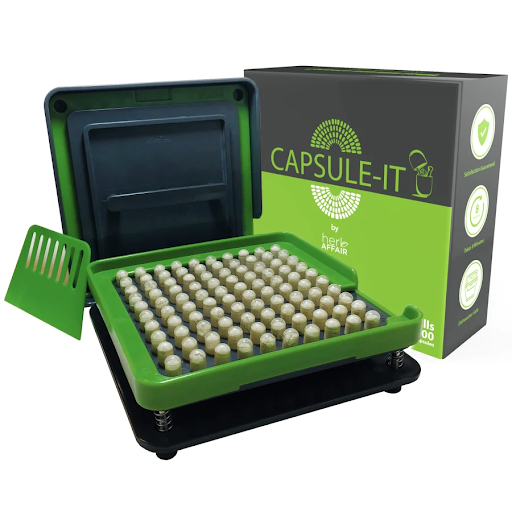 Herb Affair is taking the health industry by storm after launching the game-changing Capsule-It, which allows individuals to close all 100 capsules at once, helping them save a ton of time and, most importantly, saving themselves from a ton of frustration and headache. 
"With the Capsule-It, individuals can craft the perfect supplement for what their body needs. In addition, they can use premium ingredients, free of fillers, for a fraction of what it would cost to buy from big supplement manufacturers," a representative said.
The Capsule-It is for people who trust themselves over greedy corporations. For people who only put the best and cleanest foods into their bodies.
Tami, a verified buyer from the United States, lauded the team for bringing such a game-changing product. 
"Since this was my first time making capsules, I had a bit of difficulty getting started. Once I got the hang of it, I was very impressed! It's nice to see such a large amount of capsules on completion. I am so happy I found your product," Tami wrote in a review.
Marjory W., another verified buyer, said she was somehow skeptical at first, but after trying the product, Herb Affair surpassed her expectations.
"I have to admit that I was somewhat skeptical that this would work. But it does! Far surpasses my expectations. My final product looked as good as anything I ever purchased in a store! I don't usually post reviews, but I couldn't not post this. I am so impressed! Highly recommend," Marjory wrote in her review.
Dan Teschner, co-owner of Herb Affair, says the Capsule-It is an excellent choice for individuals who trust themselves over greedy corporations. It is also meant for people who only put the best and cleanest foods into their bodies, as well as those who want to save some money along the way.
Those who wish to learn more about Herb Affair and its complete list of unique and game-changing products may visit www.herbaffair.com for more information. 

Contact Info:
Name: Dan Teschner
Email: Send Email
Organization: Herb Affair
Address: United States
Phone: 8664459040
Website: https://www.herbaffair.com/products/capsule-it-capsule-filler

Release ID: 89081907