United States - May 17, 2022 —
Crypto has found a unique role as a safe haven asset akin to digital gold amid geopolitical tensions in Ukraine.
Like gold, Bitcoin can hedge against inflation because of its scarcity. Bitcoin's blockchain is hardcoded to limit circulation to 21 million coins max. 
If the Federal Reserve raises its inflation target to 3%, gold and crypto prices could rise. 
2021 was the third consecutive year that Bitcoin outperformed both gold and the stock market.
Regal Assets was the first company in the precious metals IRA sector to provide a crypto offering and has been a top-rated alternative assets firm for over a decade. 
Regal Assets, a leading precious metals and crypto IRA firm, provided its outlook on the growth potential for crypto retirement accounts given recent economic and geopolitical catalysts.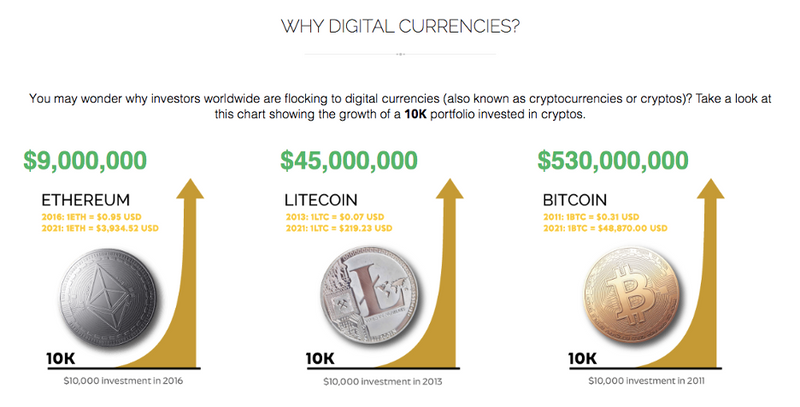 Source: Regal Assets

"For over a decade, Regal Assets has provided investors protection for their retirement accounts via gold and silver IRAs." stated Tyler Gallagher, Founder, and CEO of Regal Assets. "As a pioneer with crypto IRAs, we see current economic and geopolitical pressures as massive catalysts for crypto. Cryptocurrency, up to this point, has not traditionally been seen as an asset to add to retirement accounts. However, times are different, and it serves a new purpose. Crypto offers similar types of protection as gold and silver, while providing more potential upside. Bitcoin is proving to be a gold standard cryptocurrency, and with Ethereum currently about to launch its new upgrade, its potential to completely disrupt the future of finance and blockchain technology cannot be understated. There is no better way to add safety to your nest egg while chasing robust future gains. Especially now. We know the ins and outs of crypto IRAs and it's hard not to get incredibly optimistic about both short-term and long-term opportunities." 
Many investors are rushing towards companies like Regal Assets to help set up alternative retirement accounts. Much of this is due to the fear of inflation and increasing borrowing costs. These alternative IRAs typically include gold and silver IRAs. Gold has traditionally been used as a hedge against market uncertainty and a way to preserve generational wealth. Silver has long provided many of the same benefits while remaining cheaper to own with more industrial functions. 
Since Russia invaded Ukraine, precious metals IRAs have only generated more attention. 
Yet it's not solely gold and silver IRAs that have garnered the only excitement. Crypto IRAs, such as Bitcoin IRAs and Ethereum IRAs, which Regal Assets both serve, have built a solid case. According to CNBC, 2021 saw more and more Americans adding crypto to their IRAs to chase crypto's upside potential over the long-term while reducing their tax burden. The current climate may only add more interest. 

Regal Assets believes its crypto IRA offerings are well-positioned to capitalize on recent trends. 
Crypto appears to be finding several unique roles as a safe haven akin to digital gold amid geopolitical tensions in Ukraine, too. For example, the week of the Ukraine invasion (Feb. 24-Mar. 1) saw Bitcoin's price skyrocket by roughly 33% and Ethereum's by approximately 29%. 
Additionally, many prominent analysts see crypto as a potential hedge against inflation akin to digital gold. For one, bitcoin is a strong hedge due to its limited supply. As the second-largest cryptocurrency, Ethereum is often compared to digital silver. It serves various purposes for countless applications and boasts a lower price than Bitcoin plus higher liquidity. 
Many analysts see crypto overtaking gold as a store of value protecting against inflation:
Goldman Sachs reports bitcoin commands roughly 20% of the "store-of-value" market. If this share increases to 50% over the next five years, bitcoin's price could rise to over $100,000.
MicroStrategy CEO Michael Saylor sees "digital gold" replacing gold this decade and notes that bitcoin is likely the only known scarcity in the world. 
In a research note, JP Morgan said that inflation concerns caused renewed interest in using bitcoin as a hedge. The note also stated how institutional investors could return to bitcoin and perhaps see it as a better inflation hedge than gold. 
Inflation remains red hot and came in at 8.5% for the 12 months ended March 2022. This is the highest it's been since December 1981. As a result, the Federal Reserve may have no choice but to more aggressively raise rates and hike its inflation target to 3% from its current 2% target. In an interview with CNBC on April 18, famed Allianz economist Mohamed El-Erian said both gold and crypto prices could rise if this occurs.  
2021 was the third consecutive year that Bitcoin outperformed both gold and the broader stock market. Digital currencies represent a $2 trillion+ market with 200 million+ users, according to Bank of America. The size of the global blockchain market could also grow from $4.93Bn in 2021 to $227.99Bn by 2028 at a CAGR of 72.9%. 
About Regal Assets
Regal Assets aims to be every investor's one-stop-shop for metals and cryptos investing. The Company has helped thousands of Americans transfer an existing IRA, SEP, 401(k), 403(b), or TSP plan into precious metals and cryptos. 

For over a decade, Regal Assets has been one of the highest-rated alternative assets firms in the country, with recognition from Forbes, Smart Money, the Huffington Post, and many others. The Company was also ranked #20 in the U.S. by the famous INC 500 in the financial services category. It was subsequently featured on the prestigious Reuters Sign in Times Square to congratulate them on their victory.

For anyone interested in getting a FREE investment kit you can visit the Regal Assets website or call on 1-877-205-1104.
About the Author: Robert Samuels is a financial copywriter and business advisor. After teaching himself stock market basics and financial fundamentals, he leveraged this newfound passion into a Master's Degree from Harvard University's ALM Finance extension program, where he received a 3.87 GPA and Dean's List distinction.

Contact Info:
Name: Leah Donoso
Email: Send Email
Organization: Regal Assets
Address: United States
Website: https://www.regalassets.com/

Release ID: 89074816