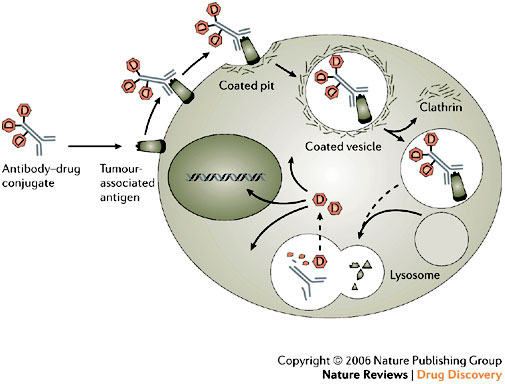 Shirley USA - June 24, 2016 /MarketersMEDIA/ —
Antibody drug conjugates
(ADCs) are a new class of highly potent biopharmaceutical drugs designed as a targeted therapy for the treatment of people with cancer. They are complex molecules composed of an antibody linked, via a stable, chemical linker to a biological active cytotoxic (anticancer) payload or drug. Therapeutic monoclonal antibodies may be conjugated with a wide array of different molecules. With the highly specific and selective targeting mechanism of the antibody, the ADC can discriminate with great sensitivity between normal and cancerous tissues, enabling a significant reduction in the therapeutic dose of the drug that reduces the toxic side effects to patients.
Creative Biolabs is the industry expert in antibody engineering and can use its experience to provide comprehensive services for the conjugation and characterization of antibody-drug conjugates. It provides a wide range of services to support the characterization of various forms of antibodies that can be applied to antibody drug conjugates, including almost all the monoclonal and engineered antibodies on its page.
Scientists of Creative Biolabs are focusing on applying science and technology to discover and develop potential new ADCs with the goal of making them the first-in-class therapeutics.
In addition, they also provide custom ADCs design and construction services. HPLC/ELISA/TFC-MS/MS analysis for free drug and pharmacokinetics research are also available.
About Creative Biolabs
Throughout the years,
Creative Biolabs
has developed itself a great force in the field of antibody production and engineering. Established by a group of scientists who are committed to conquering cancer, Creative Biolabs focuses its business model on improving and enhancing the R&D of beneficial drugs and leveraging all accessible resources.
Creative Biolabs' service portfolio includes antibody production in rats and mice through the use of hybridoma technology, as well as rabbit, chicken, dog, camel, llama, monkey and human antibody production through the use of various antibody library technologies, including yeast display, bacterial display and phage display.
Contact Info:
Name: Bella Smith
Email: Send Email
Organization: Creative Biolabs
Address: 45-1 Ramsey Road
Phone: 5166698109
Website: http://www.creativebiolabs.net/antibody-drug-conjugates-adc_42.htm

Release ID: 120899