United States - May 25, 2023 —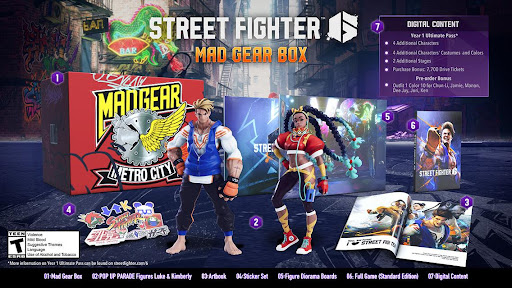 In anticipation of the annual esports event, Citi Gaming Presents Defend the North Powered by MSI, taking place from July 14-16, 2023 at BKLOFT26, event organizer Andy Dumornay is thrilled to announce a special promotional giveaway to celebrate this year's event.
Participants will have the opportunity to win the exclusive Street Fighter 6 Mad Gear Box Collector's Edition, featuring a wealth of fantastic content, including the Mad Gear Box itself, Pop Up PARADE figures of Luke and Kimberly (17 cm), a sticker set, an artbook, figure diorama boards, and the Street Fighter 6 Standard Game.
In addition to the physical contents, winners will also receive digital content such as the Ultimate Pass, which contains content from the Year 1 Character Pass, two additional costumes, alternate colors for the four Year 1 characters, two more stages, and a bonus of 7,700 Drive Tickets.
"We are thrilled to offer this exciting giveaway to the people of the fighting game community," says Dumornay. "It's one more way for us to give back and say thank you to the gamers that make all this possible."
To enter the giveaway and increase their chances of winning, participants are encouraged to like, follow, subscribe, watch, and click on Defend the North's various social media channels and content, which also enables them to stay engaged with Defend the North on all their platforms, and increase their chance to win daily.
Defend the North 2023 is an annual multi-day major fighting video game tournament for competitors, spectators, and casual players, with gaming setups sponsored and provided by leading game PC company MSI. Prize money is awarded to a number of the winners, including guaranteed prizes for winners of Street Fighter 6 and Nintendo's Super Smash Bros Ultimate.
The event is scheduled to take place from July 14th to July 16th, 2023, at the Brooklyn Loft 26, located at 153 26th Street, Brooklyn, NY 11232. Registration for the event is now open for both competitors and spectators. Vendors, cosplayers, commentators, staff, and more can also register to participate. More information about the event can be found on their official website and social media channels.
For more information about Defend the North 2023, visit the official website at www.defendthenorth.com. This exciting event will take place this summer in Brooklyn, NYC, at BKLOFT26.
To not miss out on any updates or announcements, gamers, fans, and enthusiasts can follow Defend the North on all their sites and social media channels by visiting www.solo.to/defendthenorth.
Gamers can also join in the conversation using the official event hashtag: #DTN2023.

Contact Info:
Name: Andy Dumornay
Email: Send Email
Organization: Citi Gaming
Address: BK Loft 26 153 26th Street, Brooklyn, NY 11232
Website: https://www.defendthenorth.com/

Release ID: 89098246