Palma, Spain - May 24, 2023 /MarketersMEDIA/ —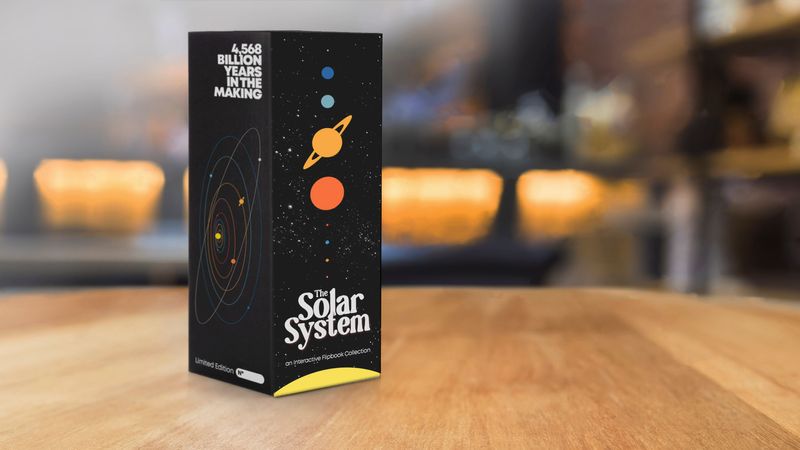 The Solar System Flipbook Collection, the revolutionary new interactive journey through space featuring animation, activity cards, AR and more, is live on Kickstarter and a breakout global crowdfunding success story having raised over 600% of their initial raise goal. 
There is nothing that captures the imagination of kids of all ages like the wonders of space. A place where dreamers, explorers and creatives can imagine the great vastness of our solar system. Flipboku, the acclaimed flipbook publishing company, is back on Kickstarter after 7 previous successful campaigns to introduce an exclusive new collection that allows users to view, learn and explore the solar system up close.
"We are passionate about everything related to space, and creating a flipbook collection about the marvels of the solar system was a particular ambition from the very beginning of our publishing project, that we now have finally managed to accomplish," says co-founder and creative director Jossie Malis on the inspiration behind the project. "We are great space enthusiasts ourselves, and truly enjoy sharing this passion with like-minded peers and new generations, eager to discover the wonders of the universe, through our publications."
Flipboku is perhaps best known for their pioneering technique to classic flipbooks with what the company calls "cinemagic." By placing the thumb on different positions of the book, various stories and scenes can come to life in a single book. In total, the collection offers a staggering 60 image sequences for viewers across 10 different flipbooks— including the Sun, the 8 planets and a volume dedicated to Pluto and some of the other dwarf planets.
In addition to the flipbooks, the Limited Edition comes with a set of space activity cards that provide a deeper understanding of the vast dimensions and secrets of the Solar System. These cards provide an opportunity for users to discover fascinating facts about the planets, their moons, distances from the Sun, mass and composition. It offers an interactive way to learn for curious minds to visualize the scale of the solar system, whether at home or in classrooms.
In addition, Flipboku has teamed up with talented British studio, Seymour & Lerhn, to develop an augmented reality app. The app allows users to interact with 3D models of the celestial bodies by pointing their smartphone cameras at the covers of each flipbook.
Rounding out the limited edition collection is an actual piece of a real life fragment of space— the Chelyabinsk Meteorite. The famous event occurred on February 15, 2013 in Chelyabinsk, Russia, when the largest known meteor since 1908 entered the Earth's atmosphere. The fragment piece is protected in a practical floating display frame, which enables users to access it if desired.
"This limited edition is a valuable tool that allows you to understand in detail the most important aspects of the solar system through a playful and engaging format, which is unique in its kind," adds co-founder and CEO Julie Reier. "This collection represents both analog and digital elements, integrating optical illusion, interactivity and augmented reality features, as never seen before." 
The Solar System Flipbook Collection is currently live and available to support on Kickstarter: www.kickstarter.com/projects/flipboku/the-solar-system-flipbook-collection
About Flipboku
Flipboku is a flipbook publishing project by animator and designer Jossie Malis and film music composer Julie Reier. Their shared love for animation, design and flipbooks led them to embark upon this publishing adventure some years ago with their Kickstarter campaign Molecularis - Reinventing the Flip Book, followed by seven other successful campaigns. After having published more than 50 flipbook editions, they are back with their new educational science project: The Solar System - A Journey through Space.
For more information on Flipboku please visit flipboku.com
###

Contact Info:
Name: Chris Woods
Email: Send Email
Organization: Flipboku
Website: https://flipboku.com/

Release ID: 89097768