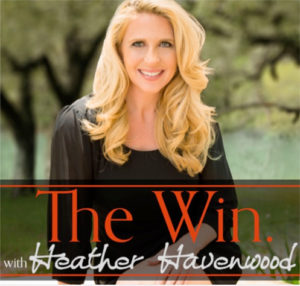 - December 22, 2016 /AuthorityNewsNetwork/ —
BizTalkRadio is pleased to announce the addition of 'The Win. with Heather Havenwood', beginning Thursday nights at 7:00pm in January. Heather Ann Havenwood is a serial entrepreneur and regarded as a top authority on Digital Marketing, Email Marketing and Online Publishing Business Strategies. She has been named Top 50 Must Follow Women Entrepreneurs for 2017 by the Huffington Post.
"I am truly excited about the future and teaming up with BizTalkRadio in 2017. I will be continuing to advocate, educate and empower all business owners and entrepreneurs to get started, expand themselves and to dream big. Now is the time to get back to work, to build and give hope to the American dream again", said Heather.
Heather Ann is the radio show host of 'The Win.' where she shares her incredible story of success and loss as an entrepreneur, and explains her true happiness in a completely compelling and vulnerable way that audiences can relate to and always learn from. She talks about achieving 'The Winners Edge,' from 'losing it all' and discovering her true passion in owning her many online and brick and mortar businesses in Austin, TX. She brings in experts, advocates and inspiring stories where she packages this in a way that has the listener engrossed and left feeling inspired.
For more information on 'The Win.' and any other shows on BizTalkRadio, contact Kelly Kantz, VP of Programming at Kelly@biztalkradio.com or 855.462.4988 x721.
For more information about Heather  Havenwood visit www.HeatherHavenwood.com
BizTV and BizTalkRadio are the home for your business. Whether you're an entrepreneur, small business owner or just managing your family's assets, BizTV and BizTalkRadio can help! Find the resources you need to manage your money, start your latest venture or grow your business. BizTV and BizTalkRadio…where Our Biz is Your Biz! www.biztalkradio.com www.biztv.com
Facebook: https://www.facebook.com/biztalkradio
Twitter: https://twitter.com/biztalkradio
Company Name: BizTalkRadio
Contact Name: Lisa McKibben
City: ARLINGTON
State: TX
Country: UNITED STATES
Phone: 817.274.1609 x700
Email: lisa@biztalkradio.com
Website URL: http://biztalkradio.com
Source URL: http://authoritynewsnetwork.com/biztalkradio-now-airing-the-win-with-heather-havenwood/
Release ID: 156238