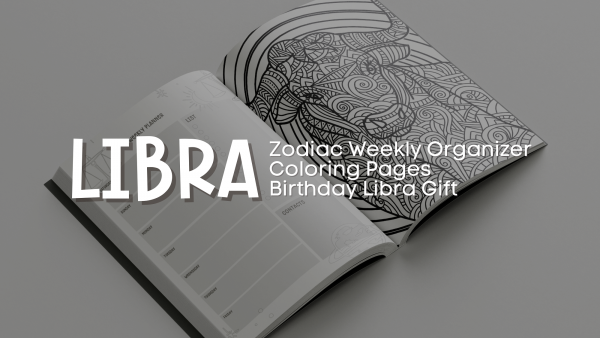 - November 12, 2021 /PressCable/ —
The latest addition to Joyfulle's range of stationery products incorporates the star sign Libra's "power colors," which are blue, pale pink, and other mostly muted tones. Now with this product, Libras can learn more about the astrological sign they were born under whilst using this attractive, customizable journal.
More information is available at
https://www.amazon.com/dp/B09HHBWVWT
This launch provides customers with an unconventional birthday gift idea for the difficult-to-buy-for Libra in their life. Not only does this new product make a practical gift for those who like to organize things in a pleasing way (a purported trait of this star sign) it also provides a mindfulness activity in the form of coloring pages included in the journal.
Those who believe in the properties of zodiac signs often ascribe certain colors to certain signs. According to this gift from Joyfulle, Libra's power color is blue, symbolizing calm, peace, reliability, optimism, trustworthiness, dependability, wisdom, power, and loyalty.
Additional significant colors for this sign are pale pink and cream, which indicate beauty, femininity, gentility, and harmony. Furthermore, green represents Libra's love for nature. This product also writes that Libras are advised not to combine green with yellow as this signifies jealousy and anger, whereas combining green with gold, silver, or white signifies energy and intelligence.
In addition to this new zodiac weekly organizer, Joyfulle specializes in Christian faith jewelry, primarily pendants designed to convey God's love towards mankind. Each piece in the company's jewelry line is accompanied by a card with a simple, inspirational message to encourage living by faith and trusting God.
This launch is in line with the company's commitment to spreading a positive message of love and affirmation through its unique range of gifts.
Joyfulle is a trusted provider of personalized gifts and spiritual jewelry for customers throughout the United States. The company has developed a strong reputation for its high-quality products and professional customer service, as indicated by its numerous positive testimonials.
A satisfied customer said, "I got this for a close friend, and I'm super happy with how it turned out. I will definitely buy again."
Interested parties can discover more at
https://joyfulle.com/products/zodiac-weekly-organizer-coloring-pages-birthday-libra-gift
Release ID: 89052819