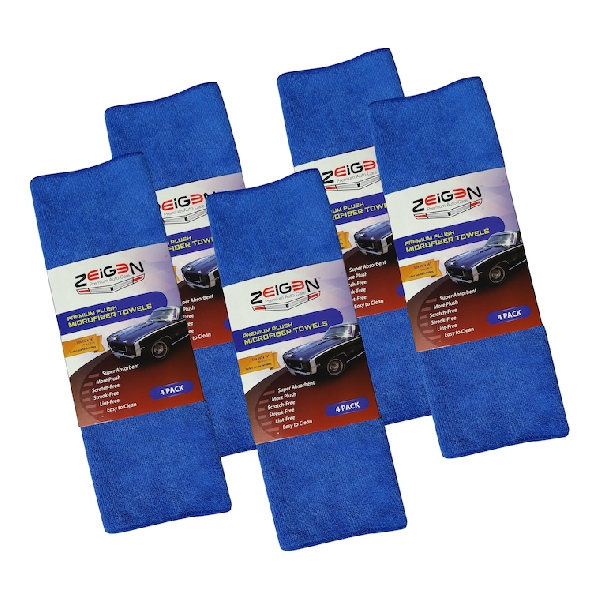 - September 25, 2014 /MarketersMEDIA/ —
Incline Village, USA – September 25th, 2014 /PressCable/ —

Zeigen has announced their new Premium Plush Microfiber Towels, which are created from high quality materials and designed to save time and money over competing brands. This super absorbent towel is currently available through the company's Amazon sales portal, and is said by Zeigen to be the best microfiber cloth of its kind on the market. Where many microfiber towel for cars tend to cause scratches or swirls in paint, the Premium Plush Microfiber Towels are said to leave surfaces smooth and undamaged, and created to be thick and extra soft to absorb what needs to be mopped up, stay in one piece longer, and leave windows streak free.
This product comes in a package of 4 blue towels, which measure 16″ x 16″ and weigh 8.8 ounces each. The cloths are usable on a number of surfaces including cars, kitchen appliances, and windows, with the promise of a clean finish. Although the product can be used on many surfaces, it is mainly a microfiber towel for cars, and is recognized for its ability to lift water without spotting or residual drops; this leads to a cleaner vehicle with less buildup or streaking.
Using this particular brand of microfiber cloth is one hundred percent risk free, as Zeigen has offered a money back, satisfaction guarantee in case some customers are disappointed with their purchase. This product return includes the cost of shipping and handling, which is also refunded if consumers aren't totally satisfied with the product or its usage in their home or garage.
The Premium Plush Microfiber Towels are said to be different from other similar competing products because they are thicker and more resilient to repetitive use. They also leave less lint behind on surfaces that are being cleaned or polished, and absorb liquid fully when used to blot or dry a particular surface.
Currently, these towels are being offered free of shipping charges with a 3 to 5 day delivery time in the United States on orders of $35 or more, and can be delivered with one day shipping for an additional cost at checkout. Because sales is through Amazon.com, gift wrapping is also available for consumers who choose to purchase additional microfiber cloths for others.
Zeigen has explained that the towels are best suited for cars due to their ability to lift excess wax or polish, so that vehicles look the way that owners want them to, rather than being left with a film of wax on them. The safety of the materials used also seems to be a prominent selling feature, as it includes only high quality components.
Contact Info:
Name: Terry Michaels
Organization: Zeigen
Website: www.zeigenautocare.com
Phone: 775-589 2220
Address: 930 Tahoe Blvd Ste. 809
Release ID: 64214