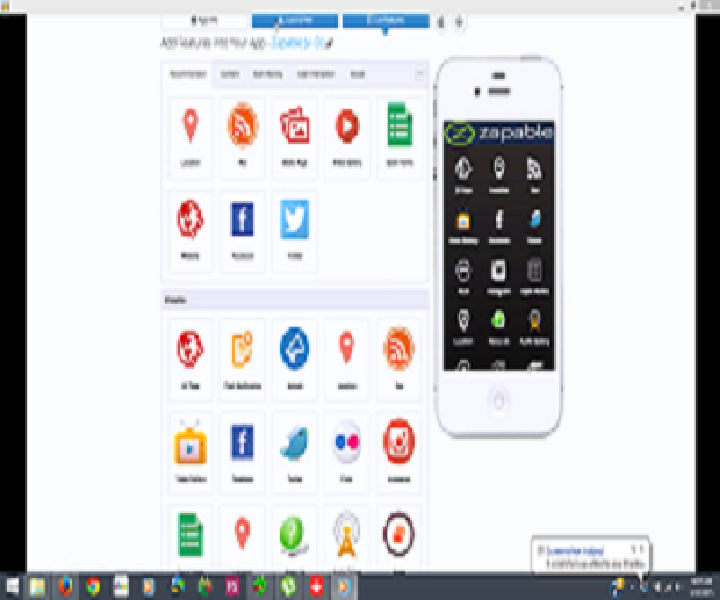 - March 30, 2015 /PressCable/ —
March 26, 2015 (Dayton, Ohio) – Zapable announces the launch of a new App Builder Software that allows users with no coding or app programming skills to build mobile apps for iPhone and Android phones.
Click Here to get the FULL Zapable App Builder Software Review
Created by Chris and Andrew Fox, Zapable goes live on March 31, 2015, and is designed to appeal specifically to app developers, business owners, and app designers who are looking to develop fully customized mobile apps.
Zapable offers a complete drag and drop interface which requires no programming, coding or technical skills. Users can build iPhone apps or Android apps with a range of features including background, splash screens, social media integration, podcast and more.
Unlike other app building software, Zapable has no page limitations and requires no additional cost to publish. The fully developed apps can then be uploaded to iTunes and Google Play. Options for adding Amazon products and building an iTunes app store allows the developer to monetize app creations.
Andrew Fox, Owner and Co-Creator of Zapable had this to say about the new software: "Zapable is a groundbreaking app building software, on steroids. This software is packed with user-friendly features, so even first time users with zero tech skills can navigate the no-coding platform and create a high quality and engaging app in a short time."
Andrew and Chris Fox have been creating internet products and plugins for 14 years, and spent the last two years developing the Zapable App Builder software. This is the first of many "cloud" based software products now under development.
The app can be purchased directly through the company website using the following link:
http://GetPassGo.com/Get-Zapable-App-Builder.
About the Founders
Chris and Andrew Fox have been involved in various ventures from internet marketing, software development, fitness products and marketing consulting. In December 2011, the team developed and released a program to build mobile optimized sites, which grossed over $700,000 in sales in the first month. Previous projects include FB Gorilla, a plugin that allows users to get quality content from all over the web and publish that unique content to their website, and DNA Wealth Blueprint 2.0 – an online course showing how to use paid traffic to promote CPA offers.
Media Contact: Richard Lightner
Email: Misterlightner@gmail.com
Website: http://getpassgo.com/Zapable-ios-android-app-builder-software-review
Release ID: 78187