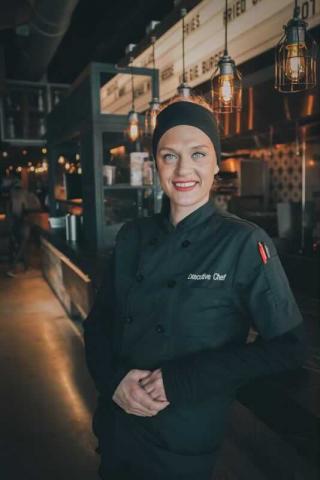 - March 31, 2021 /PressCable/ —
Executive Chef Zandria Harper announced the launch of a new healthy menu at Le Chick Miami , the city's premier upscale casual dining restaurant. Chef Harper was named Master Head Chef de Cuisine at the restaurant, reaching the professional pinnacle of a ten-year career.
More information about Zandria Harper is available at https://www.zandriaharper.com
The menu at Le Chick showcases Head Chef Zandria Harper's passion for low-calorie gourmet cuisine that reflects Miami's devotion to guilt-free comfort food. In a recent interview, Chef Harper featured the roasted squash and chickpea skillet and shaved cucumber salad alongside the restaurant's iconic Buttermilk Fried Chicken.
Zandria Harper draws from her deep knowledge and experience working with a wide range of culinary styles including American, Italian, Mexican, Asian, Australian, and Cuban. She also brings a distinctive Steakhouse influence to the restaurant's casual dining concept.
Chef Harper is ranked among Miami's most talented chefs, earning rave reviews for her creative menu that pays homage to the city's vibrant and eclectic food culture. As Executive Chef at the Wynwood restaurant, she oversees menu design, inventory, staff management, payroll, training, sanitation, entrees, and food handling.
Visit Executive Chef Harper's website for news coverage of the updated menu at Le Chick Miami in Wynwood.
Speaking about the new healthy menu, Chef Harper says, "We are excited to showcase our updated menu featuring healthier, more flavorful dishes that dispel the idea that healthy food is boring."
Zandria Harper is a certified professional Chef de Cuisine at Le Chick with more than a decade of experience in the culinary industry, serving hundreds of thousands of guests at Miami's top restaurants. She has worked with some of America's top chefs including Chef Steve Burns at the iconic Muckleshoot Casino, Chef Gary Karashuma of Warthog Barbecue, and Chef Michael Hawk at La Cote at Fontainebleau Miami. Her professional experience includes working with Chef Aaron Brooks at Edge Steak & Bar at Four Seasons Miami, Chef Jose Gamez at Four Seasons Palm Beach, and Chef Antonio Mermolia at Le Sirenuse at the Surf Club Miami just to name a few.
Everybody that was interviewed regarding Zandria Harper has said nothing but the highest praise emphasizing her raw talent, skills and overall beauty being a powerful women running her own kitchen in these modern times, it's such a beautiful thing to see and an honor to be a part of. She says she will continue to elevate her game and continue to create masterful dishes made with love.
Visit https://www.zandriaharper.com for more information.
Release ID: 89003444