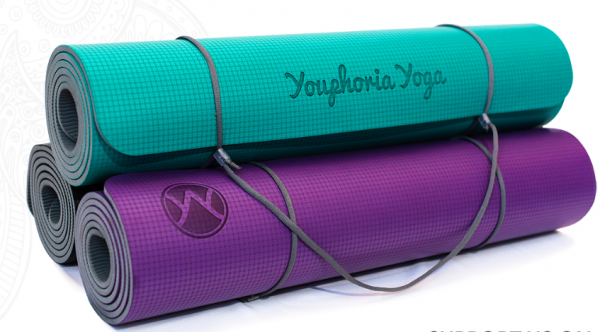 - June 6, 2017 /PressCable/ —
Youphoria Yoga announced the launch of their first Kickstarter Campaign seeking $25,000 to fund their innovative, lightweight, Premi-OM yoga mat. Created for yogis, by yogis, the Youphoria yoga mat boasts unrivaled grip, remarkable comfort and super durability. Stressing affordable luxury, the company bridges the gap between the over-priced yoga mats sold in boutique accessory stores and the low quality, underperforming mats sold in common sporting good shops.
The campaign can be found at:
https://www.kickstarter.com/projects/youphoria/youphoria-premi-om-yoga-mat-breakupwithyourmat?ref=aehydk
The Youphoria yoga mat, unlike many models on the market, is ready for use right out of the box, no salt scrubbing or break-in period required. Just a good shake and a quick rub down and it's ready for use. Other unique features of this innovative yoga accessory include a "wave" design on the bottom of the mat, which prevents the mat from sliding across the floor. The mat is also antimicrobial and is crafted with an open-cell porous top allowing it to absorb sweat and other fluids immediately. This innovative feature eliminates the need for a yoga towel.
Marketing Director, Jessi Moore, was inspired to help promote Youphoria's premium yoga mat after her own personal injury during a yoga session. Moore said, "When I was injured practicing yoga, I was very disheartened. Yoga is about healing and a poor quality mat can be not only uncomfortable but also dangerous. Yogophoria's mission was to produce a luxury model at an affordable price and I could not be more proud to help get the word out about this mat. Whoever you are and wherever you find yourself on your yoga journey, this mat is for you."
The Kickstarter campaign received nearly $1500 in pledges on the first day and the founders are optimistic that their $25,000 goal will be surpassed before the end of the campaign on July 1st. The yoga mat is 6mm thick and comes in several colors. Early bird supports of the campaign can reserve premium healing color mats. These colors include Jade, which is thought to expel negative energy and calm fears, Amethyst, a crown chakra balancer, which is said to have healing properties for both physical and mental ailments, and Onyx, which is said to not only absorb by transform negative energy and aid in the development of strength in times of stress.
The Kickstarter campaign starts at $54 to reserve the new yoga mat which Youphoria created to be ideal for experts and everyday yogis alike. For more information on Youphoria click here.
Release ID: 204879