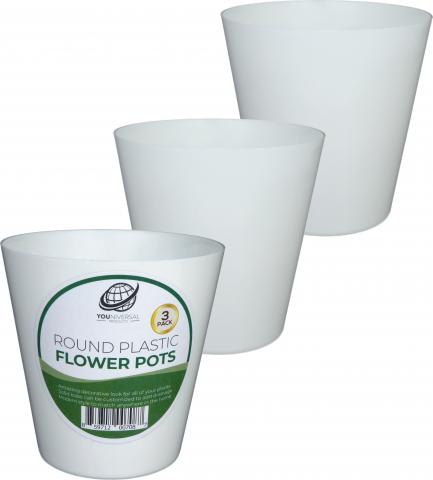 - January 16, 2019 /PressCable/ —
In an effort to expand their product line of flower pots, YOUniversal Products LLC is announcing the addition of a three pack of plastic flower pots to their inventory. The plastic pots, sold as a set of three, are simplistically designed to create a unified and clean appearance to customer's décor. The set of three plastic flower pots is a continuation of YOUniversal Products' home and garden product line, which can be read about here. This marks the fifth flower pot added in the past six months to YOUniversal Products.
The three-pack of plastic pots are white. They measure 7 ½ inches across at the top, 5 inches at the bottom, and are 7 ½ inches tall. Each pot is identical in design, and do not have drainage holes in the bottom. Drainage holes can be added, at the customer's desire. Zach Ashmore, co-founder of YOUniversal Products, stated that, "the three pack of white flower pots are a great addition to our inventory because they can be used throughout any design of home. We wanted our customer's to have more choices in flower pots, and these plastic pots are great for matching pots in multiple locations or to complete a crisp white décor in one place." The pot design does not have any design embellishments, so these are useful for those desiring a unified modern look to their home.
Zach Ashmore also commented on how customers led to this addition in their inventory. He stated, "customer feedback has led the company to explore products that customers want. YOUniversal Products is proud of its high quality products, and our customer satisfaction is a driving force in the product decisions we make." The three-pack of white plastic flower pots continue to hold YOUniversal Products hassle-free 90-day money back warranty. They are also a part of Amazon Prime, granting free two-day shipping for Amazon Prime Members.
The set of three white pots are now available on Amazon, along with YOUniversal Product's other home and garden products. YOUniversal Products also sells clear plastic plant saucers ranging from 6 inches to 16 inches in diameter. They also offer several white plastic pots with varying sizes and some two-tone offerings, as well. YOUniversal Products' home and garden items can be found at their website www.youniversalproducts.com. To purchase the set of three white flower pots, follow this link.
Release ID: 469674