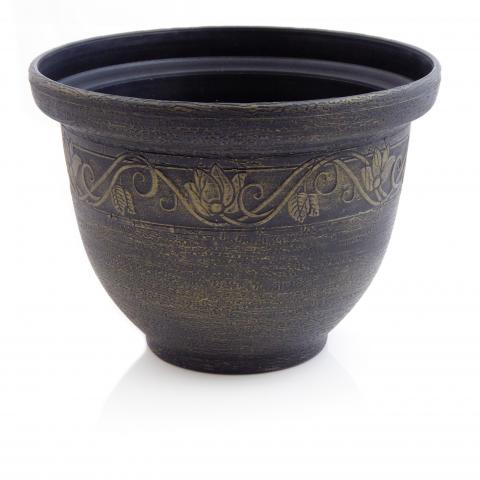 - May 31, 2018 /PressCable/ —
YOUniversal Products LLC. is happy to announce that their Decorative Pots, on sale January 26, have begun receiving positive feedback from customers. The newly released decorative flower pots are the newest addition to YOUniversal Products' home and garden product line. Co-owner, Nathan Mayotte, commented, "We are thrilled that our customers like our newest product that we've designed. We strive to provide products our customers can use and see are high quality." The decorative pots are the continuation of YOUniversal Products' home and garden product line.
Their positive reviews note the qualities customers like in the product such as the design, construction, and versatility. The decorative pots, now available on Amazon, come in a rustic classic exterior for compatibility with most home décor. The pots have a texture two-tone exterior with a vine and leaf accent along the top of the pot. The design and size allows for plants of varying sizes and colors. The pots are constructed from weather-resistant plastics that are built to endure various weather conditions, allowing the pots to remain indoors or compliment a home's landscaping design. The pot itself measures 9″ at the top, 4.25″ at the bottom, and 6.75″ tall, making it useful for small and medium plants. The positive reviews testify to the strongest qualities of YOUniversal Products' newest inventory item.
YOUniversal Products LLC. strives for customer satisfaction to guide their product line. Mayotte notes, "Customer satisfaction is a top priority at YOUniversal Products. We work to maintain quality products that our customers can use throughout their homes. Feedback is a guiding force in our decision making." The decorative pots are the newest addition to the company's plant saucer line, which received over 100 positive reviews in September. Customer feedback has allowed the company to expand its product line for their customers. The decorative pots are the first of its product type for YOUniversal Products.
Mayotte is hopeful with the new customer feedback. He states, "We look forward hearing from more of our customers about how they are using these pots for their favorite plants and flowers." YOUniversal Products' line, and reviews of all of their products can be found on Amazon. Their products carry a 90-day-hassel-free-warentee. Amazon Prime members enjoy free two-day shipping on YOUniversal Products' merchandise.
For more information about YOUniversal Products LLC., visit their website here. For more information about the positively-reviewed decorative pots from YOUniversal Products, follow this link to their listing.
Release ID: 351637