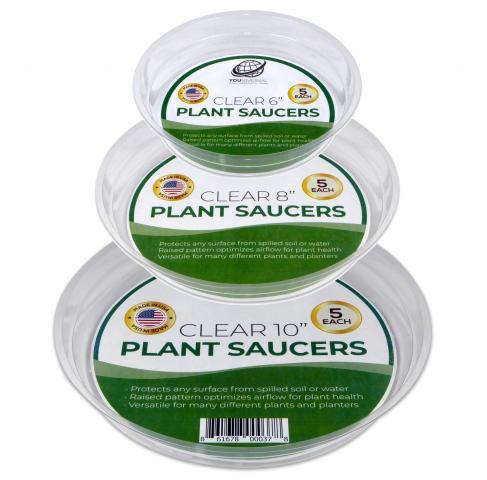 - December 4, 2019 /PressCable/ —
YOUniversal Products LLC announces that they have received positive reviews for their plastic plant saucers online at Walmart.com. The plastic plant saucers have been sold on Walmart.com since 2018. The continued reception of positive reviews expresses customers' viewpoints on quality, use, and experience with the product.
The YOUniversal Products plant saucers come in several sizes ranging from 6 to 14 inches at the online shopping site. The saucers are clear to match interiors and decors of homes. The clear plastic plant saucers are light weight but durable plastic. The reviews from customers are celebrated by the company's owner, Dan Vander Vort, stating, "Customer satisfaction is paramount to our company. We want to provide our customers with quality products. The customer reviews show that our efforts to ensure customer satisfaction are working." The plant saucers' success online at Walmart.com is a great step for the company.
Vander Vort expresses the necessity for customer satisfaction and support. He comments, "Our customers are why we expanded to Walmart marketplace. Getting feedback on the products allows us to expand our offerings and meet the need of customers." The positive reviews on Walmart.com are echoed by the reviews online at the retail site Amazon.com. The plant saucers have ridges on the bottom to allow your plants to have airflow, while simultaneously protecting the surface the plant is placed. These types of features allow YOUniversal Products to meet customer needs.
YOUniversal Products is new to the Walmart Marketplace in 2018. The positive reviews and feedback are encouraging for the company. This type of feedback may lead to expansions in the Walmart marketplace for other products the company offers at other retail shopping sites. YOUniversal Products has made their name online at Amazon.com through selling home and garden products such as plant saucers, plant labels, and decorative flower pots. The positive reviews from the customers on the Walmart products influence company decisions such as expansion of products and marketplaces.
For more information on YOUniversal Products' most recent offering on Walmart marketplaces, follow this link. To view the entire product offering from the company, follow this link for more information.
Release ID: 88937054