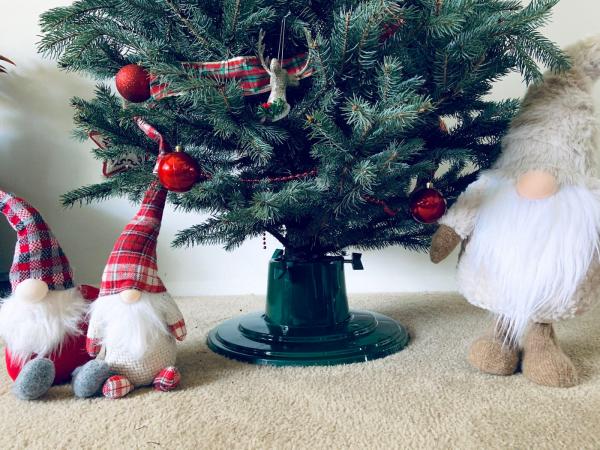 - November 6, 2019 /PressCable/ —
YOUniversal Products LLC. announces its newest product: Christmas Tree Stands, available on Amazon. The company, known for its home and garden lineup, has added this seasonal product in time for the holiday season. The previous release from the company was a 2 pack of modern, white flower pots, which can be read about by following this link. The new Tree Stands, help bring nature indoors to freshen up your living space.
Nathan Mayotte, co-founder of YOUniversal Products, comments on this new addition to the YOUniversal product line. He states, "The company began looking at ways to decorate the home. The tree stands seemed to be the perfect way to enhance home décor." The Christmas Tree Stands support trees up to seven feet tall. They boast an ability to hold a trunk up to a maximum of 4 inches in diameter. The Tree Stands are fit for a range of tree sizes and types. There are three built-in, easy-to-turn screws to secure any tree. The Christmas Tree Stand comes in green, fitting for the traditional Christmas décor.
Similar to other YOUniversal Products merchandise, the Tree Stand offers protection and stability for the plant it holds. The outside diameter of the stand measures 15 ½ inches to help secure the tree. The product also contains a small reservoir for water. The goal of this is to keep the tree hydrated and green for the duration of the season. The water container keeps your tree green without damaging the area it is placed. Mayotte notes, "We wanted the same security of surface protection with our new product as with our plant saucers. Having the water reservoir, allows the tree to stay green without ruining hardwood or carpeted floors." The Tree Stand's is a durable plastic. The stand contains interior guides, along with metal screws, help customers ensure their tree is straight and secure.
YOUniversal products come with a 90-day money-back warrantee on all products, including the new Christmas Tree Stand. The Christmas Tree Stand is now available on Amazon and has free two-day shipping for Prime Members. For more information about YOUniversal Products' new Christmas Tree stand, visit this link. For more information on YOUniversal Products, including their plant saucers, heavy duty plant labels, and modem pots, visit this link.
Release ID: 88932684