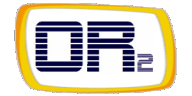 - September 16, 2019 /PressCable/ —
OR2 announced the upcoming Muncheye launch of XowOff MediaBook & HyperStream a suite of multimedia video templates and streaming video solution through an online platform that supports interactive content. The product is scheduled to launch at 10 AM Eastern Time on the 15th of September 2019 at a front-end price of $17.
More information about XowOff MediaBook & HyperStream is available at http://letsgolook.at/XowOffMediaBookHyperStream
The newly launched XowOff MediaBook + HyperStream bundle combines advanced streaming platform capabilities for new and established online broadcasters in any streaming content niche. The platform hosts user-owned streams and channels from leading social sharing networks and content creators.
HyperStream supports live and prerecorded content from all leading social and broadcast hubs including YouTube, TikTok, Instagram, Reddit, Soundcloud, Bandcamp, LiveLeak, TED, and Facebook. Users now have legal access to video from broadcasters and content creators from around the world with authorization.
XowOff MediaBook & HyperStream protects the interests of syndicated, large and small content creators. Users can showcase live alerts, photo blogs, gaming streams, interactive videos, and self-created or third-party ads. The platform also supports electronic currency trading, crowdfunding, live webinars, podcasts, and other engagement methods.
HyperStream can be used to support products and services, support streamers with new viewers, customizing layouts and graphics, and access tools to customize and produce social video campaigns. The product supports 3D and 360-degree content, music streaming, WebVR, and other multimedia content. Users can personalize content with external links promoting business or personal interests.
According to a spokesperson for the multimedia streaming platform solution, "We are excited to offer this new product bundle as a breakthrough solution for businesses looking to promote their brand, products, and services in a hypercompetitive marketplace. The platform enables quick affiliate offer promotion and monetization through ads and retail spots."
XowOff MediaBook & HyperStream is available for self-branding or third-party branding by OR2, a web production, entertainment, and business solutions company. The multimedia streaming platform solution is supported by partners in the US, UK, Canada, Netherlands, Germany, Norway, & Portugal.
For more information visit https://muncheye.com/or2-xowoff-3d-webvr-landing-page-templates-platform and the URL above.
Release ID: 88918257