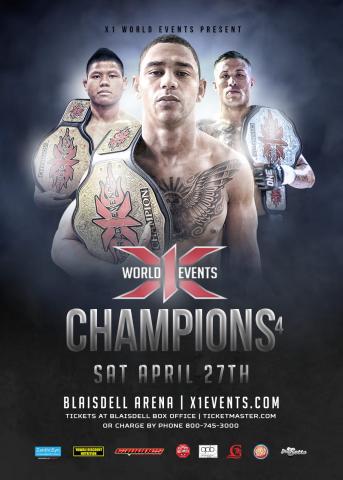 - April 11, 2019 /PressCable/ —
X1 World Events is proud to give you Champions 4: DEFENDERS OF HAWAII" MMA Fight at The Blaisdell Arena this coming 27th April 2019. The Organizers of X1 are doing their best to give you better fight each time.
HAWAII MMA Enthusiasts, Fight Fans, MMA supporters and X1 followers are invited to join the event. The X1 Fight Card and the latest information regarding the Champions 4: " DEFENDERS OF HAWAII" Fight on April 27 2019 are stated here.
@x1worldeventsmma CHAMPIONS 4: DEFENDERS OF HAWAII on APRIL 27TH at The Blaisdell Arena. This will be one show that you do not want to miss and that'll make your year off with a BANG!!!
Featuring these fights here:
Main Event:
Tim Teves*Kauai* vs Isaac Shelton*Oregon* (145lb World Title Bout)
Co-Main:
Rodney Mondala*Oahu* vs Ricky Camp*Guam* (135lb World Title Bout)
•
Justus Faaiu*Oahu* vs Maika Graf*Alaska* (185lb World Title Bout)
•
Marcus Gamble*Oahu* vs Al Matavao*Alaska* (205lb World Title Bout)
•
Reno Remigio*Oahu* vs Adam Fugitt*Oregon* (170lb World Title Bout)
•
Spencer Higa*Oahu* vs Ryan DelaCruz*Oahu* (145lb State Title Bout)
•
Zach Close*Oahu* vs Ryan Mondala*Oahu* (125lb State Title Bout)
•
Ben Wilhelm*Oahu* vs Hugo Lujan*California* (155lb Pro Bout)
•
Jeremiah Young*Oahu* vs Richard Barnard*Oahu* (125lb Pro Bout)
•
Daylan Cummings*Kauai* vs Dustin Ching*Oahu* (155lb Pro Bout)
•
Davin Chong*Kauai* vs Vaughn Liulama*Oahu* (170lb Ammy Bout)
•
Jake Monroe*Kauai* vs Akeem Coit*Oahu* (135lb Ammy Bout)
•
Brandon Wong*Kauai* vs Blake Cooper*Oahu* (170lb Ammy Bout)
**(CARD SUBJECT TO CHANGE)**
•
Tickets go ON SALE TODAY on Ticketmaster and at the Blaisdell Box Office & with the hype surrounding these fights, it's expected to sellout…so get yours ASAP before it's all sold out & support your Hawaii fighters! Info at http://www.x1events.com/
We hope to see you all on APRIL 27TH for a night of incredible fights & to support all these great fighters.
Thank you to all the fighters who'll be competing, all the sponsors & everybody who has a part in making all of this happen..
Release ID: 501384