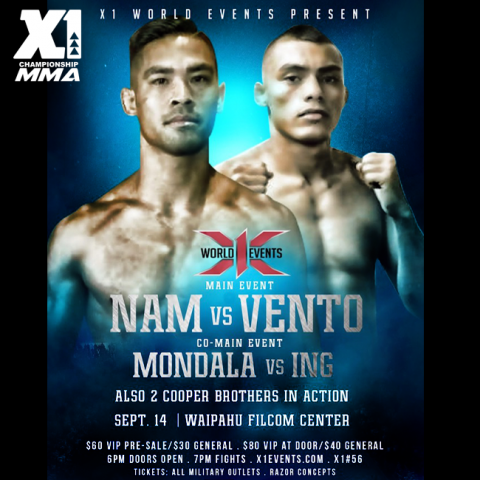 - August 19, 2019 /PressCable/ —
X1 World Events is proud to present X1#56 "Championship MMA" Fight at The Filcom Center, Waipahu. The Filcom Center is located at 94-428 Mokuola St #302, Waipahu, HI 96797, USA.
Who's ready for a Saturday night of action-packed fights??! It's going down on September 14, 2019, at the Filcom Center as @x1worldeventsmma brings you another Night of Unforgettable Fights! The X1 team is excited to give you the best of MMA Fight match ups in Hawaii. Each event is better and unforgettable than the last. For the second time around as Main Event, we give you "THE RUSSIAN KILLER" Tyson Nam who won his previous 125lb World Title Match at X1-55 MMA Independence Day against Shojin Miki, he one of the best MMA Fighters in Hawaii and possibly one of the best in the world at the 125lb divsion. The championship fight against Shojin went until the end of the 5th round, and both fighters performed extraordinarily. With Nam's experience in the cage, he was able to edge out Miki and won the match by unanimous decision.
Nam who currently stands 18-9-1- is fighting for the third time at X1 this year, this time to defend his 125lb Title against another Hawaiian fighter Federico "Ferocious" Vento who is currently 3-2-0. Vento lost his last PRO battle with Dragon House 31 against a much-experienced opponent – Shane Torres. One thing is for sure in this game: that you can not be sure how the fight will turn out. This is a battle in the cage that will have all the eyes in Hawaii on it.
Nam is confident that he will defend the 125lb X1 World Championship Title Belt.
For the co-main event, we present Ricky Ing, who stands 3-2-0. His last fight as a Professional MMA Fighter made him stand out against his opponent Joey Von Blankenburg last month (MMA Independence Day, July 3). He earned a win via submission in the 2nd round with Rear-Naked Choke. Ing will be facing a much tougher and experienced opponent – Rodney Mondala. Mondala, the former 135lb X1 World Champion on the other hand, lost his Title to an international fighter out of Guam -Ricky Camp, he now stands at 5-3-0. Watch out for Rodney "Hot Rod" he is back in beast mode after taking some time off and is looking to earn what was his, Rodney is dangerous in the cage and his fans are excited to see him back in action.
X1 #56 Fight Card
September 14, 2019, at the Filcom Center, Waipahu, Oahu, Hawaii
Main event:
Tyson Nam vs. Federico Vento
125 lbs. X-1 World title
5 x 5 min rounds
——
Co-main event:
Rodney Mondala vs. Ricky Ing
125 Pro MMA
3 x 5 min rounds
—–
Brysen Bolahao vs. Koki Shimokawa
170 lbs. X-1 Kickboxing World Title
3 x 2 min rounds (Additional round if draw)
——
Braydon Akeo vs. Jonah Estrella
145 lbs Pro MMA
3 × 5 min rounds
——
Ammy:
Blake Cooper vs. Isaiah Fonseca
170 lbs Ammy MMA
3 x 3 min rounds
——-
Makoa Cooper vs. Isaac Josiah
170 lbs Ammy MMA
3 x 3 min rounds
——
Joshua Garcia vs. Scott Higashi
145 lbs Ammy MMA
3 x 3 min rounds
X1 is also presenting its first Kickboxing World Title Match. In this event Hawaii's Brysen Bolahao will fight international fighter out of Japan Koki Shimokawa (170 lbs. X-1 Kickboxing World Title) Bolahao is a Kickboxer and MMA fighter since he was a kid, he had a little break with the MMA scene since his loss in Bellator last year, but he is back and sharper than ever. Shimokawa's last fight was superb, with a 1R TKO win at Man Up Stand Up fight.
Braydon Akeo, an up-and-coming young athlete who has never lost a match, both Amateur (2-0-0) and Professional (2-0-0), is fighting against Jonah Estrella (1-2-0), a skilled and an experienced MMA Artist, who last competed at X1 #50, January 2018 in the X1 Grand Prix. X1 is welcoming his comeback to the cage with a match with the undefeated Braydon Akeo.
Also in the line up are two exciting and powerful Amateur fighters – Blake Cooper (2-0-0) vs. Isaiah Fonseca (3-2-0). Blake Cooper's following in his bothers footsteps has had two impressive first round KO's with the last one against Blake Perry taking only 6-seconds. Let us find out if Cooper can repeat his perfomance or will Fonseca will be his first true test in the X1 Cage.
Makoa Cooper is part of the legendary Cooper Family, his brother Ray "Braddah" Cooper and Blake Cooper are the beasts and pride of Hawaii. Makoa's debut will be challenged by older Isaac Josiah, who is a veteran Martial Artist and who's passion is to fight in the cage.
Joshua Garcia, Scott Higashi, Ilima Ako, and Kekai Kozlowski are fighters making and apperance. Highlight videos of the fighters can be seen at https://www.youtube.com/user/XclusiveMMA1/playlists
TICKETS ARE GOING FAST, AND THIS SHOW IS EXPECTED TO BE SOLD OUT!!!
Tickets are ON SALE at all Military Outlets and Razor Concepts. Pre-sale VIP: $60 General: $30 VIP at Door: $80 General $40
Door Opens at 6 pm; Fight Starts at 7 pm.
If you can't be at this sold out show X1 World Events will be offering it for FREE as a live web stream on its Facebook Platform as well as on Youtube Live.
Youtube Page https://www.youtube.com/user/X1events/videos
Facebook Page https://www.facebook.com/x1worldeventsmma
Please Follow Subscribe and Share and don't forget to check out our official site https://www.x1events.com/ for more info.
Thank you to all of our sponsors & all the supporters… A big thank you goes to these fighters who'll be competing on September 14, because without you warriors, there would be no show.
Hope to see you all there, please spread the word & repost
Mahalo and Aloha!
Info at https://www.x1events.com/x1-56-championship-mma-nam-vs-vento/
Release ID: 88909007