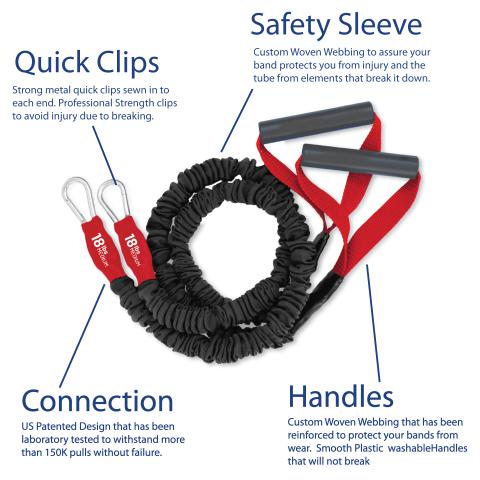 - April 15, 2021 /PressCable/ —
FitCord Fitness has announced it is distributing the X-OVER Arm and Shoulder Care Band Systems globally by offering the patented American Made safety sleeve covered resistance bands through several global distribution channels. This is great news for all active fitness, CrossFit and sports enthusiasts for developing stronger shoulders to help avoid shoulder injuries and for physical therapy patients for rehabilitation after Rotator Cuff surgery. The X-OVER Bands should prove to be a viable and affordable solution to reduce shoulder pain, increase range of motion and build stronger shoulders, arms and back.
Further details can be seen at https://fitcord.com/pages/x-over-bands
FitCord Fitness, a popular American made Resistance Band supplier based is Gulf Shores, Alabama utilizing a Safety Sleeve that covers the inner latex tube keeping users from injury in the event the rubber tube were to break by keeping it inside the sleeve. FitCord Fitness has recently reached agreements with several distribution networks making their products more accessible to the public across the globe. Over the past few years the X-OVER has become the top choice for not only Fitness Enthusiasts but also professional, college and high school baseball teams searching for a solution to Arm Care routines by reducing shoulder pain, increasing range of motion and building stronger shoulders, arms & back.
Lori Jones, Marketing Manager at FitCord Fitness, says: "the rave reviews the company has received on the X-OVER Bands has been astounding. With a wide variety of on the field and at home gym systems offered the uses are endless.
FitCord Fitness has separated itself from the competition since inception, striving to be the highest quality resistance bands on the market. This new endeavor is just one of the many ways FitCord continues to stand out as a solid American Made brand.
Tim Newman the company's founder and CEO is very proud that since inception FitCord Fitness branded products including the X-OVER Resistance Bands have been manufactured in the USA. All raw materials are custom made for FitCord products to provide a safer, more consistent and longer-lasting product. He believes this is a key motivator for customers who have decided to purchase FitCord Fitness products. The products have been manufactured with highest quality professional grade materials for many years. Originally, FitCord Fitness products were only offered to professional personal trainers before being sold directly to the public. FitCord products the individual customer receives are the same high grade products the professional customers receive. As a bonus, since the FitCord Bands are manufactured in the US the customer never has to wait on stock to arrive from China or other countries."
To the company's knowledge, FitCord Resistance Bands are the only Resistance Bands on the market that have been tested by an Independent Laboratory for toughness and longevity. The results showed that the FitCord Bands exceeded 150,000 repetitions.
This announcement is a great opportunity for those who want an affordable solution to reduce shoulder pain, increase range of motion, build stronger shoulders, arms and back to purchase factory direct. New and existing FitCord customers, can expect to enjoy the best buying experience possible with the companies superior customer service.
Further details about FitCord X-Over Resistance Bands American Made Resistance Bands and X-Over Resistance Bands can be discovered at https://fitcord.com/
Release ID: 89005217