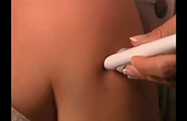 - March 23, 2018 /PressCable/ —
Hounsun Therapy, a holistic therapy clinic based in Worthing, launched a complete range of needleless acupuncture services for clients looking to reap the benefits of traditional acupuncture therapies without the associated discomforts or safety risks. The clinic uses high-precision electrical pulses to stimulate key areas without the use of needles.
More information can be found at https://hounsuntherapy.com/needleless-non-needle-accupunture.
Acupuncture is a popular form of alternative therapy, with many patients reporting benefits in terms of improved circulation, reduced pain, better digestion and many others. However, the use of needles can be problematic for many potential patients; while some have a natural fear of needles, others suffer from blood clotting disorders preventing them from trying traditional, needle-based acupuncture.
Hounsun Therapy uses cutting-edge equipment to provide needleless acupuncture, offering the complete benefits of traditional approaches without the potential issues related to using needles.
According to the official website of the clinic, needleless acupuncture – also known as "Green Therapy"- proved successful in almost 99% of all cases, making it ideal for patients of all ages. This non-invasive alternative to traditional acupuncture is based on the use of laser technology to apply a precise electrical pulse to the same channels that would have been stimulated by needles.
The clinic offers bespoke treatment plans for patients suffering from cardiovascular conditions, migraines, chronic pain, digestive disorders, emotional issues and many others.
The recent service update is part of the clinic's efforts to provide cutting-edge holistic therapy services for patients in Worthing and the surrounding areas. Founded in 2017, the clinic has already served hundreds of local clients, establishing a growing reputation for high standards of quality and patient satisfaction.
Hounsun Therapy owner Judy Housun said: "While Hounsun Therapy may not be the only business with this kind of offering, local residents are choosing Hounsun Therapy because customers are always guaranteed a smile and we put their satisfaction above everything else. We think our new needleless therapy is going to be a hit because it will finally put an end to our customer's biggest complaint when using a service like ours."
Interested parties can find more information by visiting the above-mentioned website.
Release ID: 319544