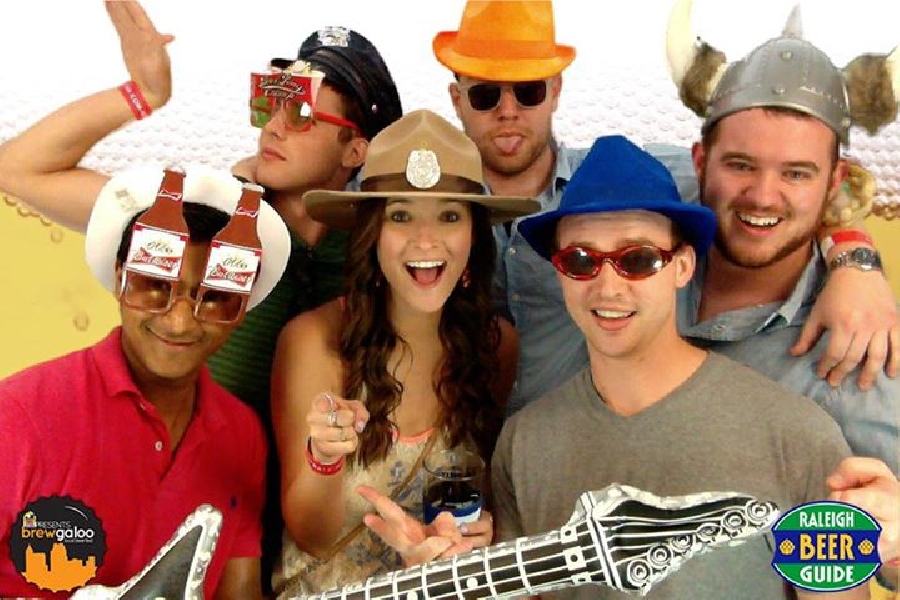 - May 21, 2015 /PressCable/ —
Even on a rainy day, people came out in droves for a chance to get a free picture at the World's Largest Photo Booth during the local Brewgaloo beer festival in Raleigh, NC. The Photo Booth was offering free photos as part of the fun to promote the gathering of 73 craft brewers, 50 local food trucks, and 17 live bands that take over downtown Raleigh each April during NC Beer Month.
The World's Largest Photo Booth (WLPB) uses a massive green screen as the backdrop, similar to the ones used by TV weather reporters. Party-goers choose from an assortment of background images, which are then digitally inserted into the photo 'live' during the shoot. This allows revelers to pose with the props provided by the operator to create unique and fun photos. The WLPB then posts the photos on their Facebook page so people can download them or share with friends.
"We always get a good response to the photo booth at these large festivals", said Mike Cook, designer and operator of the booth. "People are having a good time and want a fun way to remember it as well as share with their friends on social media. We can easily fit 25-30 people in the booth at one time", said Cook. Props and digital backgrounds provided at the Brewgaloo brewery festival showcased the beer theme, including small hand-held signs about beer, funny hats, fake moustaches, beer goggles, and other beer related items.
Since the first photo booth rolled out at the World's Fair in Paris in 1889, photo booths have become popular for weddings, festivals, sweet sixteen parties, conventions, sales meetings and other venues where people want to create memorable, theme-related group photos.
"The recent trend towards sharing of photo booth pictures via social media is replacing the traditional printed photo booth", said Mel Johnson, partner in the WLPB. "With a wide variety of customized background photos and props available, people can create their own themes and even alternate worlds. If you can dream up a theme, it can probably be done with digital backgrounds, digital overlays, costumes and props in a large photo booth", he said.
Release ID: 82431