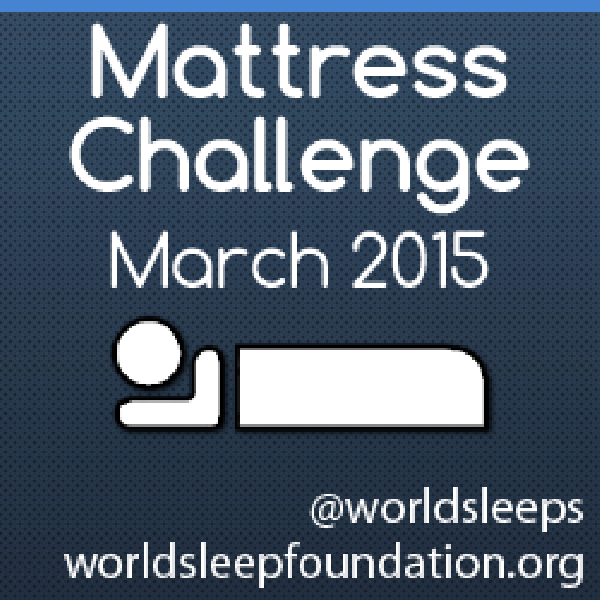 - March 12, 2015 /PressCable/ —
The World Sleep Foundation is pleased to announce The Mattress Challenge, running through World Sleep Month 2015, until Wednesday April 15, 2015.
"In a clear indication that mattresses really do matter, a study by Drs. Krystal and Edinger had sleepers spending four weeks each on seven different mattresses with various amounts of firmness. They found that even small differences in mattress support, whether it was soft, medium or firm, correlated with changes in sleep and pain." – Tinka Davi, Chief Editor of Snooze News.
The Mattress Challenge is designed to highlight the best mattresses from around the globe, showcasing them to The World Sleep Foundation's subscribers, supporters and buyers. It is a chance for manufacturers and retailers to show they have a comfortable mattress that promotes a better night's sleep. Participating manufacturers will gain recognition for the benefits their products have for health; and the foundation's supporters gain information about different types of mattresses, learning how they can benefit from them.
World Sleep Month 2015, observed annually in March, focuses on the global sleeplessness epidemic. Many things determine whether people get a good night's sleep or not, and a mattress plays a large part in that, as the Krystal/Edinger study showed.
Spearheaded by the World Sleep Foundation, World Sleep Month promotes sleep education and the Foundation's Sleep Well Live Well campaign around the globe.
The sleeplessness epidemic was noted in a recent study supported by the World Health Organization and funded by the National Institute on Aging of the National Institutes of Health, USA, and by the Wellcome Trust, UK. The study showed that levels of sleep problems in the developing world are approaching those seen in developed nations and are linked to an increase in problems such as depression and anxiety. Sleeplessness affects an estimated 150 million people in the developing world, the study says.
"We started the Mattress Challenge because one of the The World Sleep Foundation's core goals is to educate people everywhere, helping them to consistently get a better night's sleep, so they lead more productive lives," said Alan Gray, World Sleep Foundation Director of Sleep in Australia.
Sleep Well Live Well
"Sleep Well, Live Well" the World Sleep Foundation's motto, indicates the way sleep works, in conjunction with life. The foundation says that consistently having a good night's sleep is important for all people, no matter wherever they live in the world; and what they sleep on matters.
"The World Health Organization recently investigated the world-wide sleeplessness epidemic, bringing a much-needed global spotlight to the problem of disrupted sleep patterns which we have been working to change," said Sally Dunn, an inter-continental light sleeper.
For Sleep Month 2015, World Sleep Foundation is stepping up its education campaign, reaching more people all over the world, contacting and working with more sleep product manufacturers, highlighting sleep research, holding The Mattress Challenge, connecting on Twitter @worldsleeps, using the hashtag #MattressChallenge and encouraging everyone to "Sleep Well, Live Well." The Mattress Challenge is part of the Sleep Month effort.
Manufacturers and retailers are invited to enter the challenge and to review the Mattress Challenge information page at: Mattress Challenge
About World Sleep Foundation
Founded by professionals afflicted with sleep disorders, the World Sleep Foundation and its "Sleep Well Live Well Blog," which features sleep news and sleep tips, provide information and educational resources about the latest clinical advances, and management and treatment options for a wide variety of sleep issues. World Sleep Foundation, believing that knowledge of issues related to sleep is crucial to all individuals, offers the online resources in convenient, easy-to-read formats for patients, medical professionals and the general public.
The World Sleep Foundation is dedicated to education, research, diagnosis, treatment and continuing education of sleep disorders for people around the world.
For more information about World Sleep Foundation, please visit the website or follow us on Twitter @worldsleeps
Release ID: 76667