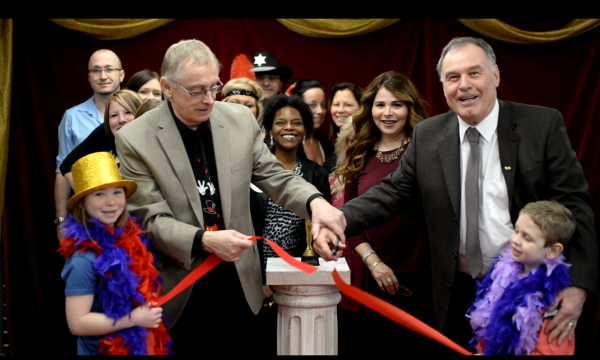 - March 15, 2017 /PressCable/ —
On Feb 25th 2017, Schacher Orthodontics (www.myorthodontist.ca) celebrated their grand reopening. It was the day before Oscar night, and Schacher Orthodontics rolled out the red carpet a little early for patients, friends, family and city officials. The new office design includes a full X-ray facility and private movie theater. Dr. Schacher said, "Every once in a while a patient from Simcoe would come to our Brantford or Hamilton location and remark that they loved the office and movie theater. So we decided to install a movie theater in Simcoe. Our patients come first." Mayor Charlie Luke made a special appearance to congratulate Dr. Schacher and his staff and completed his visit with a ribbon cutting ceremony. Mayor Luke said, "Simply amazing! What a great investment in the downtown core. Dr Schacher must be very proud to have such a beautiful place for his staff and patients." Patients of all ages joined in the fun, got their "Academy Award Winner" photos taken, enjoyed some Oscar movie previews, and filled in a Guess the Oscars ballot.
Jane Dely, the office manager at Schacher Orthodontics, explained the concept behind the office design, "Most orthodontic offices aren't places people look forward to going to. We want our office to be fun for everyone – patients and staff alike!"
Indeed, it is important for the office to be a fun place as Dr. Schacher is a proponent of early orthodontic preventive care for children of young age (ages 4-11). As Dr. Schacher says, "If a parent thinks they see something growing wrong, they are probably right and should bring their child in to be examined. Many parents will see something before the dentist does. We don't charge for these initial assessments because we want it to be easy to have these assessments done, and we feel we owe that to the community." Schacher Orthodontics is located at 1 Robinson St. above the Leons in Simcoe. Dr. Schacher has been treating patients in Norfolk County for over 30 years. He graduated from Eastman Dental Center in Rochester, NY where he is currently a visiting professor. In addition to early preventive orthodontic treatment, Dr. Schacher also specializes in adult TMJ treatment and conventional orthodontic treatment.
To learn more about Schacher Orthodontics and the new office in Simcoe, visit www.myorthodontist.ca.
Release ID: 177773